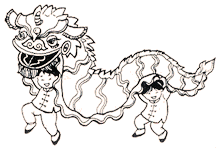 CHINESE OPERA
In Hong Kong, traditional Chinese opera and cultural shows are very popular.
Chinese opera predates the first Western opera by about 600 years. Around the 13th century performances began to develop a structured operatic form with rules of composition and fixed role characterization.

Chinese opera performance leaflet
Distinct regional styles also developed. Still today there are marked differences among the operas performed in Beijing, Guangzhou, Shanghai, Fujian, Shantou and Sichuan.
| | |
| --- | --- |
| Beijing-style opera is most popular in Hong Kong with its spectacular costumes, elaborate makeup, acrobatics and swordsmanship. Cantonese-style opera is also very popular. | |
| | Cultural performance leaflet |
Plots usually dramatize legends and historical events and glorify loyalty, filial piety and righteousness.
Accompanied by musicians, the performers sing in shrill and high-pitched voice. Lyrics are in Chinese and body language helps to enhance those lyrics.

Chinese opera performance leaflet
Chinese opera is informal. Spectators can arrive late or leave early. A spectator when spotting relatives can make his way through the audience for a casual chat.
| | |
| --- | --- |
| Cantonese opera is a common feature of important Chinese festivals such as the birthday of Tin Hau, the annual Bun Festival on Cheung Chau island, traditional Ta Tsiu festival, Hungry ghosts festival when temporary bamboo theaters are erected. | |
| | Chinese opera performance leaflet |
During the Hungry Ghost festival, there is no fee for Chinese Opera.
Cantonese opera is performed regularly at Town Halls in the New Territories as well as in the Hong Kong Cultural Centre in Tsim Sha Tsui.

Chinese opera performance leaflet
| | |
| --- | --- |
| In Hong Kong Cultural Center's located in Tsim Sha Tsui, audience can enjoy Cantonese opera and Beijing opera. Watching opera is a very traditional habit for Hong Kong people. | |
| | Chinese opera performance leaflet |
---
---