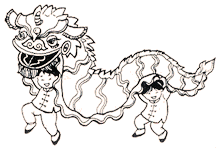 TAOISM
A man named Laotze created Taoism in the 6th century. Fellow Taoists believe that the "Tao" is a guide to the principle of truth and reality through a life of simplicity. The forces of "yin" (feminine, weak, dark, and passive) and "yang" (masculine, bright, activity and heaven) determine the events of the world.
| | |
| --- | --- |
| Where these two forces ("yin" and "yang") achieve perfect harmony and balance, there is "Tao". | |
| | Taoist Deity |
Teachings of Laotze are all contained in the book of "Tao Teh Ching". This entire book or sutra is just more than 5000 words. The eighty-one chapters of this work provide practical solutions to the problems facing a mundane and troubled world.
Complete harmony with "Tao" leads to immortality, as was achieved by the "Eight Immortals" who made their home in the sacred mountains of China.

Taoist Deity
| | |
| --- | --- |
| For most Chinese people, the "Eight Immortals" represented eight factors in their daily life: men and women, old and young, the rich and the poor, the noble and the lowly. Special halls were dedicated to the Eight Immortals in most Taoist temples. | |
| | Taoist Deity |
Three famous Taoist temples in Hong Kong are Ching Chung Koon Temple in Tuen Mun, Wong Tai Sin Temple, Yuen Yuen Institute in Tsuen Wan.

Taoist Deity
| | |
| --- | --- |
| The search for immortality has given Chinese people a deep regard for longetivity since, in older age, an individual shall have the experience and the freedom from distraction that will bring closer to "Tao". | |
| | Taoist Deity |
Gardens represent an attempt to recreate the beauty, balance and grandeur of nature in miniature, according to the principles of "yin" and "yang".

Taoist Deity
---
---