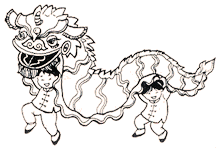 BUDDHISM
Buddhism school applied in China is called Mahayana movement. This movement taught that all beings possessed the same inborn ability as Buddha to reach Nirvana.
The Buddha is sleeping and waiting for death. He has reached Nirvana, which a state of "no self" where nothing remains to be reborn.

Reclining Buddha
Gautama Siddharta was an Indian prince, who renounced his life of luxury. He reached enlightment at 34 years old and onwards was called Buddha. Buddha explained the "Four Noble Truths" and the "Eightfold Path" as the heart of this teachings or Dharma. The Eightfold path is a series of stages that lead to the end of desire.
| | |
| --- | --- |
| The Lotus is important in Buddhism. It symbols the enlightenment because the lotus blossoms on dirty pool. It symbolises the passage from darkness to light, the passage from ignorance to wisdom. | |
| | Lotus pound in Sha Kong Wai |
The basic Buddhist beliefs, which lead to enlightment, are Samsara (journey of the being through an infinite numbers of live), Karma (current life is impacted by good and bad deeds from previous life), Nirvana and Sangha (religious community).
Buddhism features very highly in Hong Kong. Hong Kong has currently about 800 000 Buddhist disciples, making Buddhism the religion that has the largest followers in the "City of life".

Buddhist ceremony
| | |
| --- | --- |
| Hong Kong has approximately 600 temples, monasteries and shrines which are mainly Buddhist and Taoist. The largest monasteries are the Po Lin Monastery (which has the world's largest outdoor Buddha) and the Sha Tin Ten Thousand Buddhas Monastery. | |
| | Buddhist ceremony |
Buddha's birthday is celebrated throughout Hong Kong officially since year 1999.
Samantabhadra is the Bodhisattva of Perfection. He is often seating on the back of an elephant. He is holding a lotus flower.

Bodhisattva
Bodhisattvas are some people who, in their previous incarnation, were destined for enlightment. They vowed not to enter Nirvana until they had led others there before them.
| | |
| --- | --- |
| Kwan Yin (Avalokiteshvara) is another Bodhisattva. Kwan Yin is the best loved and most often encountered in Hong Kong with many Buddhist temples dedicated to her. | |
| | Kwan Yin |
Kwan Yin, the godness of Mercy, is usually depicted dressed all in white.

Kwan Yin
| | |
| --- | --- |
| The monk is hitting the bell 108 times, representing the 108 different auspicious characteristics of a Buddha. | |
| | Temple bell |
The future Buddha, called Maitreya, always portrayed as a laughing Buddha, is waiting in Heaven to come to earth and continue Buddhist teachings.

Maitreya
| | |
| --- | --- |
| A swastika engraved on the chest of a Buddha is the symbol of Buddha's heart. | |
| | Swastika |
In Hinduism, there are three major gods, i.e. Brahma the creator, Vishnu the preserver and Shiva the destructor. They are part of the Hindu trinity. Their statues can be seen in Buddhist temples and various shrines. In Buddhism, these gods have become Buddha followers.

Brahma
---
| | | |
| --- | --- | --- |
| Click to see more pictures | | |
---