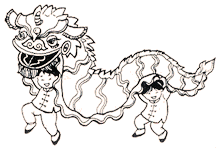 ANCESTOR WORSHIP
Ancestor worship bound together the extended family or clan, the most important unit of Chinese society.
Piles of replica momey are burnt for deceased loved ones to spend in afterlife.

Burning offering
Ancestor worship is a duty to pay respect to the elders, even after their death.
| | |
| --- | --- |
| During the funeral, goods are sent up to the departed by being burnt as offerings. | |
| | Chinese funeral |
Offerings are burned while "chantings" are performed to invite the spirits to the feast.

Chinese funeral
| | |
| --- | --- |
| Offered good can be a five-foot paper model of two-storey house, fully furnished and including a Filipino maid and Sikh doorman. | |
| | Paper model of a house |
Nowadays offered goods can also be mobile phones, credit cards, chequebooks, clothing, food, cigarettes, electronic stuff such as TV, camera, DVD set.

Paper model of a house
The high season for selling paper replicas is the Ghost Festival in the lunar month of July, when the gates to hell open and spirits are allowed to wander in the human world. To avoid disturbances, households burn paper offerings to please the ghosts.
| | |
| --- | --- |
| Chinese people also burn fake money printed by "The Bank of Hell", The money complement the gold bars sent to the deceased relatives. | |
| | Almost life-size paper car |
Nowadays there is a market for fashionable paper replicas items such as Louis Vuitton handbags, Sony Play Stations, electronic guitars, amplifiers, Apple computers, Nikon cameras and even i-pods.
Shops making and selling paper replicas for burial rites or for worship of the gods can be found all over Hong Kong territory.

Paper replicas
| | |
| --- | --- |
| Many paper offering shops and flower shops can be found at at Hung Hom, where there is a Public Funeral Parlour. | |
| | Flowers |
Sending flowers or making a donation to a designated charity in the name of the deceased is appropriate.

Flowers
---
| | |
| --- | --- |
| The Chinese family visit cemetery during Chinese public holidays such as Ching Ming festival. They usually clean the grave, bring flowers and offerings. | |
| | Chinese cemetery |
The most highly prized sites are found on south facing hillsides overlooking water.

Chinese cemetery
Funural rites concentrate on settling the spirit immediately after death. Grave rites commemorate ancestors who may have been dead for hundreds of years.
| | |
| --- | --- |
| Usually dead are buried within 24 hours of death. On the 100th day after death, the name of the deceased relative is written on the ancestral tablet of the household. Most households list only five generations of ancestors on their domestic altars. Some ancestors will have a tablet placed in an ancestral hall. | |
| | Old grave |
After the deceased has been buried for a long time, between 7 to 10 years, the remains of the deceased are exhumed and the bones are cleaned.
The bones are put in a large pottery urn, placed in the hills behind the village. Later, sometimes years or even decades later, the bones may be buried in a permanent tomb constructed of brick.

Pottery urns
| | |
| --- | --- |
| To local clans, their founder's grave is a symbol of unity. Those graves are often famous for its "feng shui". | |
| | Old grave |
Yearly grave offerings are done. Offerings are made at the grave's protective shrine. Then offerings of five roat pigs, incense, candles, rice, wine, cakes and steamed chicken are done.

Old graves
---
| | |
| --- | --- |
| On Chinese altars, it is very common to find an old black and white portrait of the family ancestor. | |
| | Old portrait |
Local shops provide funeral flowers and funeral flower arrangements and sympathy gifts.

Flowers
---
| | | | |
| --- | --- | --- | --- |
| Click to see more pictures | | | |
---
---