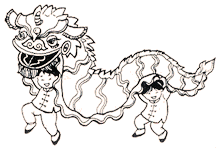 TSING YI
Tsing Yi is an island to the northwest of Hong Kong Island and south of Tsuen Wan.
Tsing Yi has extended drastically by reclamation of almost all its natural shore and annexation of Nga Ying Chau and Chau Tsai. Three major bays or harbours, Tsing Yi Tong , Mun Tsai Tong and Tsing Yi Bay in the northest are completely reclaimed one by one for new town development.

View from Tsing Yi
| | |
| --- | --- |
| The Island is divided into four quarters, the northeast quarter is a residential area, the southeast quarter is a container port, the southwest holds heavy industry, and the northwest includes a recreation trail, a transportation interchange and some dockyards and ship building industry. | |
| | Tsing Yi container port |
In 1970s, the Government decided to promote the development of new towns. As a result, the Tsing Yi Bridge connecting Tsing Yi Island with Tsuen Wan was completed in year 1974.

Tsing Yi container port
With the growth of the economy in 1980s and 1990s, Tsing Yi Island had become a densely populated area. The second and third bridges of Tsing Yi Island were completed in 1987 and 1999 to cope with the increasing traffic flow.
| | |
| --- | --- |
| Once an island occupied by fishing villages and boat dwellers, the 10.67km2 area of Tsing Yi Island is located northwest of Hong Kong Island. The area of the Island has been extended drastically with the reclamation of almost all of its natural shores and bays. | |
| | Hong Kong island seen from Tsing Yi |
Residential housing became prominent when the fishing villages were reclaimed for new development and all of the fishermen's families were relocated into estates.
The island is serviced by 8 bridges, 2 tunnels and is connected by the Tung Chung line and Airport Express with the Tsing Yi Station.

Fly there

with

Google Earth

Tsing Yi
Tsing Yi now has a population of well over 200 000.
| | |
| --- | --- |
| Several sites and shopping centers are found on Tsing Yi Island. These include the Tin Hau Temple, Chun Kwan Temple. | |
| | Tsing Yi |
Hong Kong has one of the busiest container ports in the world, with nearly a half million vessels visiting each year.

Hong Kong island seen from Tsing Yi
Storage yards are common in the northeast New Territories, offering a base from which truck drivers take containers across the border to Shenzhen via the Lok Ma Chau checkpoint.
| | |
| --- | --- |
| Big barges take the containers from boats that cannot accost and carry them in big container storages. | |
| | Hong Kong island seen from Tsing Yi |
In year 2005, heavy rain storms during the day caused stacks of containers to collapse in Container Terminal 9. Twenty containers fell on two trucks and one of the drivers was found dead. High stacking of containers, some as high as eight levels, is not uncommon in Hong Kong. This raised concern regarding safety and methods of stacking containers.

Tsing Yi
| | |
| --- | --- |
| The island's built environment is an assemblage of industrial and port facilities, reconstructed villages and resettlement estates, older public housing estates and newer, more up-market private estates. | |
| | View from Tsing Yi |
Container Terminal 9 is the 9th container terminal in Hong Kong. It is located on Tsing Yi Island, facing Rambler Channel. It has 6 berths.

Tsing Yi
| | |
| --- | --- |
| Kwai Tsing Container Terminals are the main port facilities in the reclamation along Rambler Channel between Kwai Chung and Tsing Yi Island. It includes 8 berths. | |
| | Tsing Yi container port |
Tsing Yi has been the third busiest container port in the world since 2007, just after Singapore and Shanghai.
---
| | | |
| --- | --- | --- |
| Click to see more pictures | | |
---
---