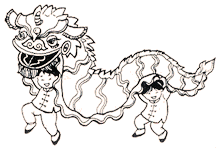 TAP MUN CHAU
Tap Mun Chau, also known as Grass Island, is located in the northeastern part of the New territories, north of the Sai Kung peninsula.
The oldest part of Tap Mun village is located around Tin Hau temple.

Tap Mun Chau
| | |
| --- | --- |
| Tap Mun is famous for its fish farms providing the main livelihood of villagers. | |
| | Tap Mun Chau |
Most of the villagers earn their living by fishing, by mariculture or by driving small boats that act as water-taxis.

Tap Mun Chau
| | |
| --- | --- |
| The island is 1.70 square kilometers, so it takes about three to four hours to enjoy it properly. | |
| | Tap Mun Chau |
This traditional temple dedicated to the Goddess of the Sea is one of the oldest in Hong Kong.

Fly there

with

Google Earth

Tin Hau temple
The Tin Hau Temple was built during the Chien Lung period (18th century).
| | |
| --- | --- |
| Skillfully ceramics and wall-painting at eaves and the top of a wall had been well preserved. | |
| | Tin Hau temple |
It is also in excellent repair owing to a number of renovations over the years.
Tin Hau Temple is divided into three parts which worship three different Gods who protect the village, i.e. Guanyin, Tin Hau Goddess and Guan Di.

Tin Hau temple
| | |
| --- | --- |
| Highlights of this Tin Hau temple are a bronze bell dated 1737, a big fish bone and two old stone tablets from the 17th century. | |
| | Tin Hau temple |
The bones are put in a large pottery urn, placed in the hills behind the village. Later, sometimes years or even decades later, the bones may be buried in a permanent tomb constructed of brick.

Pottery urns Tap Mun Chau
| | |
| --- | --- |
| New Hon Kee seafood restaurant is Tap Mun's famous eatery. It is a convenient place to have a leisurely lunch before heading to the ferry. | |
| | Tap Mun Chau |
During holidays, the only seafood restaurant on the island is full of customers. The seafood mainly comes from the fishing boats and rafts nearby.
Once Tap Mun Chau was a vibrant fishing and farming community, but today its economy is reliant on tourism.

Tap Mun Chau
| | |
| --- | --- |
| Hakka and Tanka fishermen's homes rise on stilts above the water and small shops selling anything from kites to dried seafood line the main street. | |
| | Tap Mun Chau |
In

year 1991

, Tap Mun was a fishing village with fewer than 100 residents and more than 100 000 television sets! As southern China became increasingly prosperous, there were goods smuggling.

Tap Mun Chau
Villagers on outer islands were paid to store shipments of goods purchased by Hong Kong intermediaries to sell to the Chinese smugglers.
| | |
| --- | --- |
| The majority of enterprises provide only a marginal income and most workers are seasonal. | |
| | Tap Mun Chau |
The economy of Tap Mun Chau island relies mainly on tourism nowadays.

Tap Mun Chau
---
---