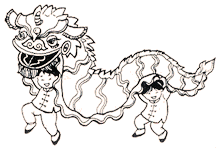 PING CHAU
The Ping Chau island is also known as Tung Ping Chau. Tung is added to the name to avoid possible confusion with Peng Chau, another island in Hong Kong. Administratively, the island is part of the Tai Po District in the New Territories.
Ping Chau island is only 2km long and is relatively flat. Visiting Tung Ping island is possible through one relaxing day out. There are beaches with coral heads just offshore, old villages - some of them intact, others in ruins - and trails going through the villages, woods.

Fly there

with

Google Earth

Sha Tau Village
The journey to Ping Chau is by a 90 minutes ferry ride, with ferries only on week-ends and public holidays. The ferry pier is located at Ma Liu Shui in Shatin district.
| | |
| --- | --- |
| Tam Tai Sin temple is a temple dedicated to Tam Kung deity. It is located up on the hill. | |
| | Tam Tai Sin temple |
Tung Pin Chau island is about 10 km from the Hong Kong mainland and fairly close to the coast of China, only about a thousand yards away.
The Tung Ping Chau Marine Park surrounds the island. The land is also protected in the Plover Cove Extension Country Park.

Ping Chau
Tung Ping Chau is formed from layers of volcanic and sedimentary rock tilting down to the sea on the east coast and upwards forming low cliffs on the west coast.
| | |
| --- | --- |
| Tung Ping Chau is quite far away so it was untouched leaving it as the only island that is part of Hong Kong to be formed purely from sedimentary rock. | |
| | Ping Chau |
Tung Ping Chau is an important ecological site. It has extensive coral formations and is rich in seaweeds. Its fringing coral formation, measuring 1.8 sq. km, is one of the largest in Hong Kong and supports over 30 hard and soft coral species, over 130 species of fishes, over 40 species of seaweed, over 100 species of marine invertebrates.

Ping Chau
| | |
| --- | --- |
| Visitors can easily hike around the island in about two hours, enjoying beautiful sea views. | |
| | Ping Chau |
Tung Ping Chau island's Tin Hau temple has a long history of 250 years.

Tin Hau temple
Fishing villages are always associated to Tin Hau or Tam Kung temples.
Both Tin Hau and Tam Tai Sin temples were renovated in

year 1970

. They are the oldest pieces of architecture on the Ping Chau island.

Tin Hau temple
---
| | |
| --- | --- |
| Click to see more pictures | |
---
comments powered by
---