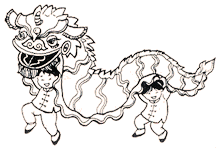 MUI WO
Lantau island is the biggest island in Hong Kong SAR. It includes famous places such as the world's largest, seated, outdoor bronze Buddha, Hong Kong airport, Disneyland resort, rural town Mui Wo and traditional Tai O village.
The watchtower at Luk Tei Tong has been dated to approximately

1930

. The tower was constructed for protection against bandits. The clans of the village are Tsang, Kam, Lam, Wong and Wan.

Fly there

with

Google Earth

Luk Tei Tong
Some local people would like to turn the Luk Tei Tong watch tower into a museum.
There are several watchtowers in Mui Wo. One of them is located at Luk Tei Tong and was built by the Tsang's family around 60 years ago.

Luk Tei Tong
| | |
| --- | --- |
| Similar to many villages in Hong Kong, houses are built very close together as each indigenous resident can get a tiny plot of land. | |
| | Luk Tei Tong |
---
Small shrine on the way to Tai Tei Tong and Pak Ngan Heung villages.

Mui Wo
| | |
| --- | --- |
| The earth god of the "head" of a village guarded the "head" of the village, and his counterpart of the "tail" of the village guarded the "tail" of the village. | |
| | Tai Tei Tong |
Pak Tai Temple is located at the square at the entrance of Tai Tei Tong Village. The temple is for worshiping Pak Tai.

Fly there

with

Google Earth

Pak Tai temple
| | |
| --- | --- |
| There is a huge square outside the temple where villagers hold gathering and banquets. | |
| | Tai Tei Tong |
According to a plan to enrich Mui Wo's rural character, a bicycling track and a heritage trail will connect scattered points of interest in the Mui Wo hinterland.
This old

1968

school is located in Tai Tei Tong village.

Tai Tei Tong
Tai Tei Tong is a green and quiet area in Mui Wo. It is about 15 minutes to Mui Wo pier.
| | |
| --- | --- |
| In Tai Tei Tong, it is possible to rent village houses. One floor is 700 sq. ft. and cost around 5000 HKD. | |
| | Tai Tei Tong |
---
Before going to Man Mo Temple, visitors have to go through Pak Ngan Heung village.

Pak Ngan Heung
Pak Ngan Heung is a small village lying with around one hundred low-rise buildings of 2 to 3 storeys. There are very good fung shui woods and farmlands.
Man Mo Temple is the oldest temple in Mui Wo. It was built around 400 years ago.

Fly there

with

Google Earth

Man Mo Temple
The Man Mo Old Temple was believed to have been built in the Ming Dynasty. It is small but well-maintained.

Man Mo Temple
| | |
| --- | --- |
| Pak Ngan Heung lies in a more inland area of Mui Wo. This is an area of orchards, small fields and a marsh surrounded by mature fung shui woods and intersected by several streams. | |
| | Village house |
---
Silver Mine Bay Waterfall Park is near Pak Ngan Heung. There is a Chinese style pavilion. The park is next to Lower Silver Mine Falls with beautiful views.

Fly there

with

Google Earth

Silver Mine Bay Waterfall Garden
The old silverlead mine was opened about 1891.
| | |
| --- | --- |
| Lantau's nature heritage trail is a hiking route of about 10km from Tung Chung to Mui Wo. The route offers scenic attractions all the way, i.e. Tai Ho River, the relics of various villages, such as Pak Mong, Ngau Kwu Long, Tai Ho, Pak Ngan Heung and Wang Tong which have a long history. | |
| | Wang Tong |
Wang Tong is one holiday home center. The result is overcrowding and noise during weekends and holidays.

Wang Tong
Rental of holiday flats is part of the economy in rural areas. These economic activities generate income for flat owners and provide employment opportunities in the areas concerned.
---
| | | | |
| --- | --- | --- | --- |
| Click to see more pictures | | | |
---
comments powered by
---