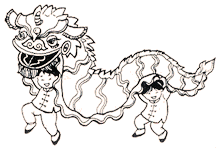 YUEN LONG
Yuen Long is situated in the northwest of the New Territories in a large alluvial plain surrounded by hills on three sides. The district covers Ping Shan Heung, Ha Tsuen Heung, Kam Tin Heung, Pat Heung, San Tin Heung, Shap Pat Heung, Yuen Long Town and Tin Shui Wai. Nam Sang Wai is one of the best hidden secret of Yuen Long.
Yuen Long New Town is a new town. It was developed from the traditional market town of Yuen Long Town from the late 1970s.

Fly there

with

Google Earth

Yuen Long New town
At the top of Yuen Long Park's hill, there is a pagoda with its lower level serving as an aviary and the upper levels as a lookout point for visitors to enjoy a panoramic view of the Yuen Long town.

Fly there

with

Google Earth

Yuen Long Park
Weddings are celebrated inside the Yuen Long Lutheran church, which has a beautiful Chinese architecture influence.

Fly there

with

Google Earth

Yuen Long Lutheran church
---
Pun Uk is a domestic house in Au Tau, Yuen Long, built in 1932 in the typical Hakka tradition.
Pun Uk mansion was built by Pun Kwan-min, a Mei-hsien native, in memory of his father Pun Yum-wah.

Fly there

with

Google Earth

Pun Uk
The location was selected for good feng-shui with a semi-circular pond and a drying ground in front of the house, and a thickly wooded mount at the back.
Pun Uk mansion is also known as "Yum Wah Kung Chi" and is the home of the Pun family.

Pun Uk
| | |
| --- | --- |
| The building keeps up the architectural uniqueness of a Hakka mansion while a semi-circular fengshui pond was built in the foreground. | |
| | Pun Uk |
Some places like Pun Uk have been on the preservation list for nearly three decades. Pun Uk in Yuen Long was recommended as monuments in 1979. Most cases the owners or tenants of the buildings objected to proposed monument status.
Three Hakka artisans were hired from Mei-hsien to ensure the quality of the craftsmanship.

Pun Uk
The layout plan belongs to the two-hall and two-flank-chamber type. Due to the gilded lions elaborately carved on the eave beam above the main entrance, the house is also know as the House of Lions.
| | |
| --- | --- |
| The ownership of the house together with the surrounding agricultural land was passed to a private developer who then put up a proposal for re-development. Through negotiation, the Government and the developer tried their effort to work out a comprehensive development scheme for the area with the aim to preserve this historical building intact. | |
| | Pun Uk |
---
Some old houses in Tung Shing Lei are still inhabited while some others are empty.

Fly there

with

Google Earth

Tung Shing Lei
| | |
| --- | --- |
| Several old houses were built at the begining of last century at Tung Shing Lei, situated at the south periphery of Nam Sang Wai. | |
| | Tung Shing Lei |
Many villages like Tung Shing Lei were impacted by Kowloon-Canton Railway's West Rail project.

Tung Shing Lei
| | |
| --- | --- |
| Two families can leave in one house. Formerly parents and their grown-up kids will stay at the same house. | |
| | Tung Shing Lei |
Nearby walled village of Ying Lung Wai built a a fung shui reflection pool which they hope will maintain the good fortune of their clan for another centuries. Its purpose is to block the effect of the Yuen Long KCR. The reflective pool with its 1 000 good-fortune fish and 20 lucky turtles was once the village fish pond.

Tung Shing Lei
| | |
| --- | --- |
| Tung Shing Lei was impacted by the contruction KCR West Rail line and its viaduct Kam Tin to Tin Shui Wai. | |
| | Tung Shing Lei |
Many trees are translocated to other sites because of development works. This may help preservation of the trees but relocation is sometimes the cause of tree deaths because of poor translocating methods and lack of supervision. In 2006, for example, 51 trees were found translocated to Tung Shing Lei because of construction of Yuen Long Bypass Floodway. More than half died soon afterwards.

Tung Shing Lei
---
| | | |
| --- | --- | --- |
| Click to see more pictures | | |
---
comments powered by
---