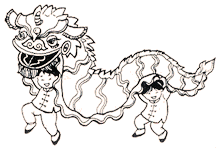 YUEN LONG
Yuen Long is situated in the northwest of the New Territories in a large alluvial plain surrounded by hills on three sides. The district covers Ping Shan Heung, Ha Tsuen Heung, Kam Tin Heung, Pat Heung, San Tin Heung, Shap Pat Heung, Yuen Long Town and Tin Shui Wai. Nam Sang Wai is one of the best hidden secret of Yuen Long.
Visitors are always captured by the enchanting and serene scene of Nam San Wai. At low tide, the area between Shan Pui River and Kam Tin River becomes the feeding ground of birds.

Fly there

with

Google Earth

Nam Sang Wai
Nam Sang Wai lies in the east of Yuen Long. It used to be a large area of fish ponds and farmlands but are mostly abandoned now. On the western shore of Kam Tin River is an extensive wetland, with water birds hunting for foods. Nam Sang Wai provides a picture of a water village, which is seldom seen in Hong Kong.
| | |
| --- | --- |
| Many visitors come to Nam Sang Wai for taking photo purposely. Many photographer groups can here to take model pictures. | |
| | Model in Nam Sang Wai |
In Nam San Wai, a luxurious growth of reeds and mangroves can be seen. In Nam Sang Wai, hundreds of birds are attracted to roost here.

Nam Sang Wai
| | |
| --- | --- |
| Local young fishermen come to Nam Sang Wai ponds to catch some fishes and spend good time together. | |
| | Nam Sang Wai |
Newlywed often come to Nam Sang Wai for their wedding pictures due to the enchanting and serene scenes.

Nam Sang Wai
There is project called Sunnyville site. It comprises 99 hectares of rural land at Nam Sang Wai. It is planned for 2550 housing units and around 7000 residents. It shall include a 8000 sq. m. of recreation and golf clubhouse floor area plus golf course, 50000 sq. m. of commercial floor area. It is not yet approved.
| | |
| --- | --- |
| The Nam Sang Wai Police Post was built about the time of the Korean War. A lot of contraband was being smuggled into China because there was an embargo on many items being sent to China. The post was established in order to curtail smuggling. | |
| | Nam Sang Wai |
During Cultural Revolution in China, the security was stepped up at the Nam Sang Wai Police Post due to attempt to seize arms. During an attack on Sha Tau Kok Police Post, several police officers were killed. It must have been received that an attempt could be made to attack the post in order to seize arms.
Shing Kee Store is a restaurant at the deep end of Nam Sang Wai and it is serving good Cantonese food.

Nam Sang Wai
| | |
| --- | --- |
| The rural development in 1990's forced most of the villagers to move to cities and made the fish ponds in Nam Sang Wai abandoned. | |
| | Nam Sang Wai |
In year 2003 a crocodile was found in Nam Sang Wai. The crocodile was measuring nearly 1.5 metres. A crocodile expert travelled in from Australia to catch it.
Nam Sang Wai is largely rural in character with considerable amount of fish ponds and a few parcels of farm land.

Nam Sang Wai
In

year 2006

, the Town Planning Board said that continuous and contiguous fish ponds in Nam Sang Wai, which form an integral part of the wetland ecosystem in the Deep Bay area, will be preserved to protect their ecological value.

Nam Sang Wai
A great way to discover Nam Sang Wai is to fly over with a paramotor! Paramotor is a generic name for the propulsive portion of a powered paraglider.

Paramotor at Nam Sang Wai
| | |
| --- | --- |
| A paramotor consists of a frame that combines the motor, propeller, harness with integrated seat and cage. | |
| | Paramotor at Nam Sang Wai |
Local visitors also gather in Nam Sang Wai to play with radio controlled helicopters.

RC helicopters at Nam Sang Wai
| | |
| --- | --- |
| Many photographers come to visit Nam Sang Wai to take model pictures, wedding pictures or landscape pictures. | |
| | Nam Sang Wai |
It is also possible to wander through Nam Sang Wai by riding a bicycle.

Bicycle at Nam Sang Wai
| | |
| --- | --- |
| With its luxuriant stands of reeds and mangroves, Nam San Wai is a natural feeding ground for migratory birds. | |
| | Nam Sang Wai |
At Shan Pui River visitors can cross a river by sampan. The fee is 5 HKD.

Fly there

with

Google Earth

Nam Sang Wai
| | |
| --- | --- |
| The only public transport in Nam Sang Wai is "Sampan", a small rowing boat that ferries the villagers across the Shan Pui River. | |
| | Nam Sang Wai |
Shan Pui River is a river in Yuen Long. It has many tributaries. Most of them starting from inside Tai Lam Country Park. It passes by six villages.

Nam Sang Wai
| | |
| --- | --- |
| After flowing through Yuen Long, Shan Pui River continues northeast into Yuen Long Industrial Estate and Nam Sang Wai, being joined by Kam Tin River on the way. | |
| | Nam Sang Wai |
---
It is possible to go to Nam Sang Wai through the Nam Sang Wai road along the Kam Tin river.

Nam Sang Wai
| | |
| --- | --- |
| The presence of numerous fishponds with only small areas of land between them, and the absence of significant vertical elements gives this landscape a unique value within Hong Kong. | |
| | Nam Sang Wai |
A small restaurant selling drinks and sweet tofu can be found along Nam Sang Wai road.

Fly there

with

Google Earth

Nam Sang Wai
| | |
| --- | --- |
| A 8.5 kilometres long cycle track connecting connecting North West New Territories with North East New Territories through Nam Sang Wai is under planning. | |
| | Nam Sang Wai |
The Fish Pond of Nam Sang Wai is marked as a zone of Comprehensive Development and Wetland Enhancement Area.

Nam Sang Wai
| | |
| --- | --- |
| Nam Sang Wai is bounded on the east by the San Tin Highway and Castle Peak Road. On the west it is bounded by the Shan Pui River. Towards the north by the Fairview Park and in the south by Shan Pui Chung Hau Tsuen and Au Tau. | |
| | Nam Sang Wai |
---
| | | | |
| --- | --- | --- | --- |
| Click to see more pictures | | | |
---
comments powered by
---