TAI PO
Increase or decrease font size for easier reading : A+ A-
Tai Po District covers the areas of Tai Po, Tai Po Kau, Ting Kok, Plover Cove and the northern part of Sai Kung Peninsula on both shores of Tolo Channel.
---
Tai Po was named as new town in 1979. Population has soared nowadays to 320,000.
Old house covered by vegetation inside Lam Tsuen River Park. Tai Po Market and Tai Wo are at the original estuary of Lam Tsuen River.



Fly there with Google Earth
---
The north area of Tai Po district is mainly rural in character and consists of predominantly low-lying alluvial valley plains which are drained by rivers Ma Wat and Indus.
There are 133 villages in Tai Po District.
There are historical buildings and structures in old villages, namely Kau Lung Hang Lo Wai, Kau Lung Hang San Wai, Yuen Leng, Nam Wa Po, Tai Wo.
The village area changed a lot in the last ten years. Big construction works included widening of Fanling Highway, Lung Shan Tunnel South Entrance, new cycle tracks of approximately 5 km long from Fanling to Tai Po.
Commercial farming (excluding livestock rearing) is the major economic activity in the area. Some open storages uses and informal industrial activities are found along Fanling highway.



Fly there with Google Earth
Kau Lung Hang Lo Wai, Kau Lung Hang San Wai, Yuen Leng, Nam Wa Po, Tai Wo villages are served by footpaths, limited vehicular access, metered water and electricity supply.
Any village improvement in these sites of historical and architectural interests shall be checked first by the Antiquities and Monument Office.
In the view of the need to preserve the rual character and the natural landscape, it is encouraged not to build open storage uses and informal industrial development.
The total population of these villages' area was 6,250 persons in

year 2001

.
Those house villages are overlooking abandoned rice fields.
---
The Tang clan which branched out from Kam Tin, Yuen Long, settled in Tai Po Tau Tsuen in the 13th century and founded the walled village Shui Wai.



Fly there with Google Earth
Due to the construction of the railway at the beginning of the 20th century, the village was divided into Shui Wai and Tai Po Tau Tsuen.
---
King Law Ka Shuk was once used as a study hall, but been serving as the ancestral hall of the Tang clan in Tai Po Tau for over one hundred years.



Fly there with Google Earth
King Law Ka Shuk is a traditional three-hall building with two open courtyards.
Kuing Law Ka Shuk was declared a monument in 1998.
King Law Ka Shuk still serves as a venue for clan members to hold meetings and traditional functions. During other days, children enjoy playing in the hall's foreground.
---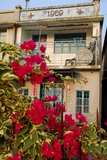 ---
---