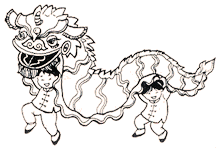 TAI PO
In year 2000, Nam Wa Po Village, a settlement with 300 permanent residents in Lam Tsuen, Tai Po was awarded the title of the "Most Beautified Village", beating more than 180 other contesting villages across the New Territories.
A century ago, a member of the Lam clan of Hang Ha Po registered the purchase of 200 acres of land. Nam Wa Po village was founded there. Mr Lam Tai-wan paid 220 HKD for the land in

year 1906

. Compared to nowadays prices, that was a great buy.

Nam Wa Po Village
In year 2006, Lam clan from Nam Wa Po village, has celebrated the land purchase made by their ancestor. All 300 clan members who still live in the village were present. Lams who live in Canada, Britain and other countries also joined.
For the village centenary birthday, villagers have published a historical booklet tracing Nam Wa Po's history and the significance of the school the villagers founded.

Nam Wa Po Village
In the past, the British local District Officer selected two or three boys from every community, usually the sons of important residents. Then they offer them enrolments at government schools. There they learned the English language. The aim was to ensure that in every village there were people who spoke English language, making it easier for the administration to govern.
The Nam Wa Po School was built in the 1920s and restored in 1953. It was still open until year 2000.

Fly there

with

Google Earth

Nam Wa Po Village
The choice was unfair for the families who were not selected. So in the 1920s, the Lams of Nam Wa Po built a school. It was one of the first villages in Tai Po to provide education for their children.
Nam Wa Po today has 300 indigenous villagers. Another 400 native sons and daughters are living abroad.

Nam Wa Po Village
The school building stands as a symbol of faith in schooling. The building incorporated a church, which is still used with weekly services held for about 40 worshippers. The other half of the building is used as a gathering place for villagers and tutorial centre for students.
| | |
| --- | --- |
| For Nam Wa Po village's 100th birthday party, there was a big performance with singers coming from Hong Kong to celebrate and the villagers hosted a traditional "pun choy" banquet. | |
| | Nam Wa Po Village |
The party cost 300 000 HKD. It was an occasion to enjoy as well as to thank their ancestor.

Nam Wa Po Village
---
Pan Chung walled village's fine ancestor hall with portraits of the ancestor including an altar with flowers and offerings.

Fly there

with

Google Earth

Pan Chung walled village
Narrow street inside Pan Chung walled village, which is a local village without city wall.

Pan Chung walled village
Fan Sin Temple is located in Sheung Wun Yiu village. It was declared a monument in

1999

. The temple has a history of over 200 years.

Fan Sin Temple
Fan Sin Temple was built to worship Fan Sin, the patron saint of potters. Its architecture is simple and functional, with the exception of fine decorations at the entrance.

Fan Sin Temple
| | |
| --- | --- |
| This beautiful and colorful Chinese temple is located in Ma Wo road. | |
| | Ma Wo temple |
---
| | | | |
| --- | --- | --- | --- |
| Click to see more pictures | | | |
---
comments powered by
---