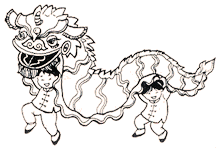 SHA TIN
Sha Tin also has still many villages, including Pai Tau, that are very close to the KCR and the city centre.
This monastery is closed to Siu Tin Toa home for the aged. This old lady is helping to do Joss paper. Traditional joss is cut into individual squares or rectangles. Each square of paper has either a thin piece of square foil glued to its center or it may be endorsed with a red ink seal from a traditional Chinese seal.

Fly there

with

Google Earth

Old lady in Monastery
From the Siu Tin Toa home for the aged, it is possible to see the Po Fook Ancestral Workshop Hall on the left then the Ten Thousand Buddhas Monastery on the right then the Sha Tin Dau Fong San, which is a sacred place of Christanity in the background. A huge Cross erected high above the hill top is visible.

Sha Tin religious hill
| | |
| --- | --- |
| Pai Tau Hang village is very close to the Ten Thousand Buddhas Monastery. It contains many inhabited houses. | |
| | Pai Tau Hang village |
Indigenous villager in the New Territories can apply for a small house grant under the New Territories. An 'indigenous villager' is a male person at least 18 years old who is descended through the male line from a resident in year 1898 of a recognised village.
The small house policy was introduced to improve the housing situation that existed in the New Territories in

year 1972

. The policy excludes both women and non-indigenous persons.

Fly there

with

Google Earth

Village entrance gate
A small house is basically a building in the New Territories constructed in accordance with some governemental rules. The building shall neither contain more than three storeys nor exceed a height of 27 feet and the maximum surface of each floor shall not normally exceed 700 square feet.
| | |
| --- | --- |
| Under the Small House Policy, every indigenous villager is entitled to apply to build a small house on private land, or on government land at a concessionary premium, within their village. Provided the small house conforms with some defined criteria, the owner is exempted from the need to submit formal building plans to Government, enabling the houses to be built very quickly with an important saving in professional fees. | |
| | Old doorway |
Until World War II, the custom in New Territories villages was that sons were able to build themselves village houses on their land in accordance with the layout of the village. Daughters married outside the village and relied on their husbands to build for them. No building could take place on agricultural land without Government permission and villagers who did not own land suitable for building had to buy Government land. Due to strong village traditions, it was unthinkable that anyone not from the village clan could build a house in a village.
Since

year 1972

, over 28 000 small houses have been built, providing potential accommodation for over 300 000 people.

Pai Tau Hang village
Recently the government proposed increasing the development density to allow multistory development to meet the increasing demand of villagers applying for land to build a three-story house.
| | |
| --- | --- |
| People now criticize the Small House Policy as indigenous women are excluded, some local indigenous villagers sold it immediately to get a financial benefit, some villages have lost their heritage value due to bad building design, environmental problems, land limitation in village. | |
| | Pai Tau Hang village |
---
Sheung Wo Che and Ha Wo Che are villages mainly occupying the lower hill. Old houses can still be found.

Sheung Wo Che
| | |
| --- | --- |
| New and beautiful modern village houses are built in Sheung Wo Che village. | |
| | Sheung Wo Che |
Lung Wah Hotel was found in 1951. It was the first hotel opened in Shatin during the postwar period. The hotel has to close in 1985 due to the government's city development in Shatin.

Fly there

with

Google Earth

Lung Wah Hotel
Lung Wah Hotel's pigeon dishes is the best and famous among all. A local saying emphasizes "you did not visit Hong Kong if you have not tried the Lung Wah pigeons."
In

year 2001

, the Environmental Protection Department provide sewerage to eight villages in Sha Tin (including Sheung Wo Che and Ha Wo Che) and Tai Po as part of the government effort to improve the water quality of Tolo Harbour.

Ha Wo Che
In year 2008 thirty residents were evacuated and three people injured after a fire broke out in a hut in Ha Wo Che.
Villages located in New Territories always include colorful red Chinese temple or shrine.

Ha Wo Che
| | |
| --- | --- |
| Such villages are at risk in case of landslides triggered by rainfall during high severe storms. | |
| | Ha Wo Che |
Shrines are in various states of repair or dilapidation according to the devotion and resources of the villagers and shrines may sometimes be completely rebuilt.

Ha Wo Che
| | |
| --- | --- |
| On the top of Ha Wo Che village, a few private monasteries and temples can be found. | |
| | Ha Wo Che |
---
At the end of the New Year Holiday lanterns are dressed and hung in the Ancestral Hall. Any local family, whom son has been born during the past year, brings a lantern to the Ancestral Hall.

Fly there

with

Google Earth

Pai Tau village
| | |
| --- | --- |
| The old Pai Tau Village is situated right next to the MTR Sha Tin Station. | |
| | Pai Tau village |
In front of Pai Tau Village, a stall selling local snacks can be found every evening.

Pai Tau village
| | |
| --- | --- |
| Some old houses have been transformed in small eateries offering basic Cantonese food and pizza for staff working in surrounding governmental buildings. | |
| | Pai Tau village |
During

years 2010 and 2011

, Pai Tau villagers complaint that the government didn't enquire their opinion to build a bridge across the village to Grand Central Plaza. It may pull down some trees which impact the

"Feng Shui"

of their village.

Pai Tau village
| | |
| --- | --- |
| New nominations happen following Village Representatives elections in Shatin. | |
| | Pai Tau village |
Huge colorful banners near the Sha Tin Rural Committee announce the new representatives in

June 2011

.

Pai Tau village
| | |
| --- | --- |
| The maximum expenditure allowed for a by-election campaign was 48000 HKD. If candidates spend more, it may be considered as used to corrupt people, so they might be invited to drink coffee at ICAC (Independent Commission Against Corruption). | |
| | Pai Tau village |
These huge colorful banners to announce new representatives nomination are really typical in New Territories region. They can also be seen in Chinese Traditional festivals such as Yu Lan (Hungry Ghost festival).

Pai Tau village
| | |
| --- | --- |
| Pai Tau, traditional village, is going through strong modernism with old Chinese houses replaced by new houses. | |
| | Pai Tau village |
Pai Tau village, small traditional village, is now included in Shatin New Town. It still features a few old houses.

Pai Tau village
| | |
| --- | --- |
| Despite modern changes in Pai Tau village, it still features traditional shrines to protect the inhabitants. | |
| | Pai Tau village |
In Pai Tau village, some traditional 3-storey houses are completely transformed to become modern hairdresser shop.

Pai Tau village
| | |
| --- | --- |
| Whenever going to Shatin post office, it is always enjoyable to walk through the traditional Pai Tau village and its old houses. | |
| | Pai Tau village |
Po Fook Ancestral Worship Hall is near Shatin post office, Hongkong and behind Pai Tau village.

Pai Tau village
| | |
| --- | --- |
| Small deity altar protecting the village in Pai Tau traditional village, New Territories, Shatin. | |
| | Pai Tau village |
Scene of ordinary life in Pai Tau traditional village, New Territories, Shatin.

Pai Tau village
---
| | |
| --- | --- |
| Click to see more pictures | |
---
comments powered by
---