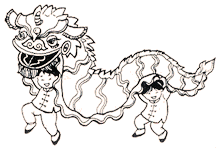 SHA TIN
The city Sha Tin was until the mid-1970s a rural township of about 35,000 people. Today, over 620,000 people live within several compact, serviced neighborhoods of various sizes within the larger urban community. The natural environment of the mountains, Shing Mun River, and Tolo Harbour have been used to provide parks, promenades, bicycle paths, and recreational facilities.
Most of the private buildings are modern style and are big residential estates.

Modern Estates
| | |
| --- | --- |
| Besides being a New Town, Sha Tin still contains some old houses. Unfortunately, this old house area has ben transformed as a truck parking. | |
| | Old House |
The Lek Yuen Bridge spans over the 200m wide Shing Mun River and is open only to pedestrians.

Fly there

with

Google Earth

Lek Yuen Bridge
Lek Yuen Bridge is an uncovered concrete footbridge built in year 1988 to connect the northern and southern banks of Shing Mun River.
| | |
| --- | --- |
| The 8-hectare Sha Tin Park is located by the Shing Mun River. The South Garden is a traditional Chinese garden with pavilions, bridge and waterfalls. | |
| | Sha Tin Park |
This park was provided at a cost of 75 millions HKD and took five years to complete. It was officially opened in

year 1988

. It consists of six gardens of distinctive styles and there are over 110 000 plants of various species inside.

Sha Tin Park
| | |
| --- | --- |
| People can hire bicycles and enjoy cycling along the Promenade via To Lo Harbour to Tai Po Waterfront Park. Some prefer enjoying jogging or walking. | |
| | Promenade along Shing Mun River |
The Star Seafood Floating Restaurant is the only marble boat-shaped restaurant in Hong Kong. It offers Cantonese

"Dim Sum"

and a wide variety of Cantonese dishes.

Fly there

with

Google Earth

Star Seafood Floating Restaurant
It was previously called Shatin Floating Restaurant and was already here in year 1968.
| | |
| --- | --- |
| The Shing Mun River at Sha Tin features bicycle tracks and walking paths on both sides. | |
| | Shing Mun River |
The Shing Mun River channel runs from the Tai Wai area, through the Sha Tin town centre to the Tolo Harbour.

Shing Mun River
The Hong Kong Science Park was conceived as a research and development campus to draw technology-oriented business and academic communities into a single location.

Fly there

with

Google Earth

The Hong Kong Science Park
Modern offices in HongKong Science and Technology Park in Shatin.

The Hong Kong Science Park
---
| | | |
| --- | --- | --- |
| Click to see more pictures | | |
---
comments powered by
---