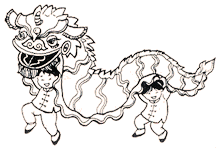 SHA LO TUNG
The Sha Lo Tung area is situated in the northeastern New Territories. It has diverse types of habitats including grasslands, abandoned agricultural paddies, woodlands and freshwater systems. Sha Lo Tung is a unique area for dragonfly species, birds and plants.
| | |
| --- | --- |
| In this kitchen, there is an old style stoke and brick chimney. Many tools are still kept in the house which let the visitors know the life of the farmers. | |
| | Cheung Uk abandoned house |
Most of the residents have already moved to the urban area.

Cheung Uk abandoned house
In year 2001 a draft Outline Zoning Plan for the Sha Lo Tung area was announced to conserve the ecological significance of the 57.2 hectares of land. It aims to preserve the natural landscape, promote conservation and maintain the rural character of the area.
A total of 21.6 hectares is zoned "Site of Special Scientific Interest". It comprises the stream courses, 30-metre wide buffer area on both sides of the streams and the freshwater marshes in the north-eastern part.
The freshwater marshes in the lowland areas and the well-wooded areas, covering 11.7 hectares, are zoned "Conservation Area" in order to enhance their ecological and landscape values, and to preserve their existing natural character.
Some two hectares of land in Cheung Uk, Lei Uk and Lo Wai are zoned "Village Type Development" for small house development by indigenous villagers.
The remaining 21.9 hectares of land are zoned "Green Belt".
| | |
| --- | --- |
| Most of the houses are still well kept and even the old furniture is unmoved. | |
| | Cheung Uk abandoned house |
The villagers moved out in the 1980s to urban area. There is no more farming. Villagers have kept the house ownership and still continue the ancestral worship through the ancestor hall.

Cheung Uk abandoned house
The farmland were sold to outsiders.
| | |
| --- | --- |
| The abandoned houses still include furnitures and even toys. Sometimes it looks like the inhabitants left them in a sudden hurry! | |
| | Cheung Uk abandoned house |
To preserve the Hakka village houses any demolition, addition, alteration to the existing village houses requires planning permission.

Cheung Uk abandoned house
| | |
| --- | --- |
| Civic Exchange proposes that the government should consider a land swap deal with the developer and villagers in order that Sha Lo Tung becomes a government land and then could become a Country Park. | |
| | Cheung Uk abandoned house |
Old houses still contain furniture, clothes, fridge, telephone, mattress, bowls, fan, pens, lamp.

Cheung Uk abandoned house
| | |
| --- | --- |
| In Sha Lo Tung, the Hakka villages have high preservation values. Heritage Conservation shall apply to prevent this site to be transformed with 3-storeyed typical village houses. | |
| | Cheung Uk abandoned house |
In

year 2008

Sha Lo Tung is the first of 12 privately owned sites earmarked by the government for conservation.

Cheung Uk abandoned house
| | |
| --- | --- |
| The development of an area of Sha Lo Tung for an educational retreat and columbarium complex has been approved. | |
| | Cheung Uk abandoned house |
During week-end, Cheung Uk village is now more lively with a shop selling drinks, tofu and local delicaties.

Cheung Uk village
| | |
| --- | --- |
| The nicest way to reach Cheung Uk village is to climb the hill behind Fung Yuen village. | |
| | Cheung Uk village |
---
comments powered by
---