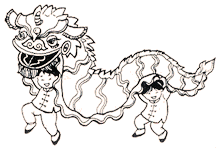 PLOVER COVE
Plover Cove Country Park was designated in 1978. It encompasses contrasting lanscapes.
This gate leads to an abandoned old school that was closed 20 years ago.

Road to Plover Cove
In many New Territories' villages, starting from the 1960s, the villagers started to migrate to Britain or move to cities to earn a living.

Fly there

with

Google Earth

Road to Plover Cove
The young people gradually moved to the city or overseas for better living standard and employment.

Road to Plover Cove
| | |
| --- | --- |
| The school is not used since many years but it looks like it was suddenly abandoned as furnitures and printers have been left behind. | |
| | Road to Plover Cove |
It seems that the blackboard and furnitures are ready to wait for new pupils.

Road to Plover Cove
| | |
| --- | --- |
| The old schoold courtyard include a basketball panel encroached by wild vegetation. | |
| | Road to Plover Cove |
The most highly prized Chinese cemetery sites are found on south facing hillsides overlooking water.

Road to Plover Cove
---
Lung Mei Village still contains beautiful and big traditional Chinese houses.

Fly there

with

Google Earth

Lung Mei Village
Just before Plover cove reservoir, there is a village called Lung Mei. This village offers a various choice of Chinese and Thai restaurants, shops to rent bicycles.
This walled house contain small windows to be able to put the gun through.

Lung Mei Village
| | |
| --- | --- |
| Due to the poor accessibility of the villages at northeast New Territories, many villagers have moved out during 1960 and 1970s. | |
| | Lung Mei Village |
---
Plove Cove reservoir is built in the sea. It is a dam of 2.1 km built to connect the Pak Sha Tau Chau and Tai Mei Tuk. The inner bay "Plover Cove" was blocked by the dam and then all the water in the bay was pumped out and filled in with freshwater.
Fishing is allowed in Plover cove reservoir. It has the richest variety of fresh-water fish of all Hong Kong reservoirs.

Plover cove
Before the construction of reservoir, there were six villages in the Plover Cove area. All of them fished or cultivated for living. After the construction of the reservoir, all the buildings and farmlands were flooded and all the villagers migrated to Tai Po Market. The government built 10 buildings to help them to settle down at Tai Po Market. Every male of the villages was distributed a flat.
| | |
| --- | --- |
| The buildings were completed and the removal accomplished by end of year 1966. | |
| | Plover cove |
Local youngsters transform their bicyles into customized bikes with speakers to listen to music while riding.

Fly there

with

Google Earth

Plover cove
The road to Plover Cover is quite busy during week-end days with many people enjoying riding bicycles.
| | |
| --- | --- |
| In October and November, when the weather becomes cooler, Plover cove is a popular place for local people to enjoy playing with kites. | |
| | Plover cove |
Plover cove dam is a popular location for kite flying on windy days.

Plover cove
| | |
| --- | --- |
| This old Chinese man is having the most beautiful and huge kite made of seven eagles. | |
| | Plover cove |
Plover Cove visitors come to have a barbecue, fly kites, go cycling or go fishing.

Plover cove
| | |
| --- | --- |
| During the dry season, it is common sight to see helicopters fetching water from Plover Cove reservoir in order to fight against the wild fires. | |
| | Plover cove |
it is forbidden to swim inside the Plover cove reservoir.

Plover cove
| | |
| --- | --- |
| Tolo Channel is a channel south of Plover Cove. There is a nice hiking walk around with wonderful views across Plover Cove Reservoir and Tolo Channel. | |
| | Plover cove |
During weekends, Plover cove promenade is full of people riding bicycles or walking along the dam, which is two kilometres in length.

Plover cove
Tai Mei Tuk is a place close to the Plover Cove Reservoir.
| | |
| --- | --- |
| Some short boat trips can bring visitors across Plover Cove Reservoir and Tolo Channel. | |
| | Tai Mei Tuk |
In Tai Mei Tuk Water Sports Centre, visitors can rent small boats and windsurf boards.

Tai Mei Tuk
| | |
| --- | --- |
| Tai Mei Tuk features a Sea Activity Centre where small boats can be rent. | |
| | Tai Mei Tuk |
Near Tai Mei Tuk's Sea Activity Centre, many anglers try to catch fishes.

Tai Mei Tuk
---
| | | |
| --- | --- | --- |
| Click to see more pictures | | |
---
comments powered by
---