PLOVER COVE
Increase or decrease font size for easier reading : A+ A-
Plover Cove Country Park was designated in 1978. It encompasses contrasting lanscapes.
---
Visitors can go to Plover Cove by taking the train to Tai Po and then a taxi or bus to Plover Cove.



Fly there with Google Earth
But the most fun and interesting way is to rent a bicycle at Tai Wo and Tai Po MTR stations on Hong Kong's East Rail Line. Then there is a 8 kilometers ride up to Plover Cove.
The way to Tai Mei Tuk, big village part of Plover Cove, is great for children as there is a dedicated track for cycles so it is very safe.
The cycling track to Plover Cove, Tai Po district, New Territories, allows discovering many cultural items such as old villages and old temples.
Those elderly people are enjoying playing mahjong outdoor. Mahjong is a popular game in Hong Kong but also is a common social activity.
During the 8 kilometers journey to Plover Cove, visitors go through many villages. Those villages feature typical "small houses", which are basically a building containing three storeys.
Tai Po district contains 133 villages including antiquities and old monuments.



Fly there with Google Earth
Traditional villages in Tai Po district are formed by a Tang or Man lineage. Annual banquets including singing performance are organized
These banquets allow the whole village to commemorate and celebrate together.
The traditional rural communities in Tai Po contain many old houses. This was built in year 1936.



Fly there with Google Earth
Many old houses can still be found in villages along the way to Tai Mei Tuk. This one was built in 1936.
---
From the cycling track, it is possible to see the world's tallest Guanyin statue at Chi Shan temple in Tai Po opened in 2013.



Fly there with Google Earth
---
Construction plans were submitted in 2003 after a donation from tycoon Li Ka-shing. The statue of Guanyin, goddess of mercy, is 76m tall. The building site was forbidden to access.
Sam Kung temple (船灣岐山三宮廟) is a beautiful recent Chinese temple, located on the road side.



Fly there with Google Earth
Sam Kung temple is bit away from the main road but it is well worth the visit.
Sam Kung temple is located in Shuen Wan area of Plover Cove. The temple is made of thee parts, i.e. a part dedicated to Tin Hau deity, a part dedicated to Kwan Tai and a part dedicated to Confucius.
Sam Kung temple was destroyed by a typhoon in year 1936 and was reconstructed in year 2009.
---
Tai Mei Tuk village features many eating places including three Thai restaurants so it is a nice stop for a good lunch.
---
The Plover Cove Reservoir is the first reservoir built in the sea. It is the second largest reservoir in Hong Kong. The largest reservoir of Hong Kong is High Island Reservoir.
The Beverly Hills is a huge complex featuring super-deluxe villas close to Sam Mun Tsai.
Sam Mun Tsai is the largest fishing village in the Tai Po area. Most of the village houses are simple 2-storey structure.



Fly there with Google Earth
With Pat Sin Leng at its back, Sam Mun Tsai area offers stunning views.
Many visitors stop by Sam Mun Tsai to have a look at the fishing boats and fish farms.
Visitors can wander along Sam Mun Tsai seaside or sail a boat in the nearby waters while enjoying the sunset or the sunrise.
Sam Mun Tsai is declared as official Governmental fish farming Zone.
Young fishes are reared in cages suspended from kept afloat rafts.
The local fishermen are raising fishes using rafts and advanced technology.



Fly there with Google Earth
---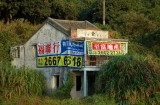 ---