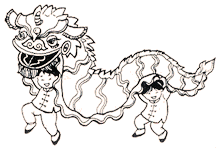 LAU FAU SHAN
Lau Fau Shan is an area in the New Territories of Hong Kong.
In the north of Yuen Long, many fish ponds and marshes can be found. Many wetland birds can be seen.

Lau Fau Shan
| | |
| --- | --- |
| The border areas between Hong Kong and the Shenzhen Special Economic Zone is restricted. Access to the border areas is restricted to residents in those areas. | |
| | Lau Fau Shan |
The number of illegal immigrants had declined over the past few years. So it had been proposed the frontier closed area be reduced from 2800 hectares to 800 hectares.
Shenzhen and its high buildings can be seen the far background.

Lau Fau Shan
| | |
| --- | --- |
| Deep Bay is a bay off the northwest coast of Lau Fau Shan. It is surrounded to the north by Shenzhen. | |
| | Lau Fau Shan |
The marshes remain largely intact along the southern part of Deep bay, which is under Hong Kong's jurisdiction. Pools of former fishing farming is an attraction to birds.

Lau Fau Shan
---
Lau Fau Shan is a small fishing village on Deep Bay. It was once famous for its oysters, which were cultivated here for several hundred years. Little remains of this today.

Fly there

with

Google Earth

Lau Fau Shan
However Lau Fau Shan, actual fishing village, with its excellent fish restaurants is still well worth a visit.

Lau Fau Shan
| | |
| --- | --- |
| Most of the inhabitants of Lau Fau Shan have given up oyster culture. Increasing contamination of the water was an additional factor in the decline of the village's traditional activity. | |
| | Lau Fau Shan |
In Lau Fau Shan's narrow main street a variety of fish and seafood, vegetables and meat are offered for sale. There are many small restaurants which serve fresh fish bought to order from the neighboring stalls.

Lau Fau Shan
| | |
| --- | --- |
| The only village of any significance along this road is Lau Fau Shan, which boasts a few seafood restaurants and shops. | |
| | Lau Fau Shan |
Lau Fau Shan is still a collection and distribution centre for the marketing of oyster products as well as other seafood. Since a variety of seafood is sold in Lau Fau Shan, it has developed into a tourist attraction.

Lau Fau Shan
| | |
| --- | --- |
| Lau Fau Shan was best known as an oyster village in the past. It is believed that around 200 households in Lau Fau Shan were oyster farmers. | |
| | Lau Fau Shan |
Lau Fau Shan was an old village famous for its fresh oysters. Nowadays, the water is dried up and the harbor is at a standstill.

Lau Fau Shan
| | |
| --- | --- |
| Due to present day pollution in Deep Bay, oyster production has declined but also due to competition from other countries like China that have cheaper labor costs. | |
| | Lau Fau Shan |
---
comments powered by
---