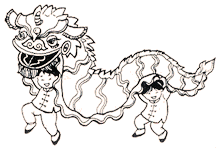 LAM TSUEN
Today, Lam Tsuen spreads over a large area, covering 26 villages.
| | |
| --- | --- |
| Situated south of Tai Mo Shan in a valley, Lam Tsuen is surrounded by green hills and clear small streams. | |
| | Countryside |
Ng Tung Chai is a famous place to go for hiking. There are altogether four waterfalls at different altitudes.

Countryside
| | |
| --- | --- |
| Ng Tung Chai is a valley heading up Tai Mo Shan from the south side of the Lam Tsuen Valley. The valley contains some excellent woodland and a series of beautiful waterfalls. | |
| | Lam Tsuen |
When walk up to Ta Mo Shan, hikers shall pass four waterfalls on the way.
The awe-inspiring Man Tak Yuen temple at the start of the path towards the Ng Tung Chai waterfalls.

Fly there

with

Google Earth

Man Tak Yuen temple
There is actually a series of falls and streams here reached by taking the path leading to Ng Tung Chai.

Fly there

with

Google Earth

Lam Tsuen
The fertile soil and plentiful water attracted many clans to settle around Lam Tsuen River as early as the Sung Dynasty. The Qing government encouraged settlements and cultivation in the New Territories, and many Hakka farmers migrated to the Tai Po and Lam Tsuen areas.

Lam Tsuen valley
Chinese people love hanging spring couplets (red paper scrolls with special good luck poems written on them) on the walls in pairs for good luck.

Fly there

with

Google Earth

Ng Tung Chai Tsuen
Ng Tung Chai Tsuen village still contains many old traditional Chinese buildings.

Ng Tung Chai Tsuen
---
| | |
| --- | --- |
| In Fong Ma Po village, there is a beautiful traditional old Tin Hau Temple. | |
| | Tin Hau temple |
A few fake Lam Tsuen's wishing trees can be found near the temple as the original wishing tree is now protected.

Lam Tsuen's wishing tree
| | |
| --- | --- |
| To celebrate their unity, the Punti and Hakka villagers decided to build a temple to be owned by all the villagers jointly. | |
| | Tin Hau temple |
The Tin Hau Temple was built during the Qing Dynasty in 1736 and renovated in 1967.

Fly there

with

Google Earth

Tin Hau temple
| | |
| --- | --- |
| The main part is dedicated to Tin Hau, the goddess of the sea, with Man and Mo, the gods of literature and war, also present. | |
| | Tin Hau temple |
It is the largest incense-filled Tin Hau Temple in Tai Po. Tin Hau is a well known goddess among the traditional Chinese, especially fishermen.

Tin Hau temple
| | |
| --- | --- |
| There are two statues of the deity on the altar, one in front of the other. The larger statue cannot be moved. It is the cult statue. The smaller statue in front is designed to be carried in a sedan-chair around the district for festivals. | |
| | Tin Hau temple |
The temple is large, well-built and well-kept. It has a noticeably austere exterior of blue brick with very little decoration.

Tin Hau temple
Growing near the Tin Hau temple in Lam Tsuen, the banyan served as a wish-making site for years for luck seekers who threw offerings and messages into its branches.
| | |
| --- | --- |
| Lam Tsuen's dying wishing tree has sagged under the weight of offerings thrown on to it for decades. | |
| | Lam Tsuen's wishing tree |
Many tourists have moved to Hang Ha Po after being barred from throwing wishing placards on the old banyan.
When a main branch broke off in

year 2005

it became obvious that too much wishful thinking was endangering the tree's existence.

Lam Tsuen's wishing tree
Tai Po's wishing tree, is a century-old tree.
| | |
| --- | --- |
| Luck seekers were banned from throwing items onto the tree. Supports were constructed for at-risk branches and more soil was exposed around the tree to give it adequate aeration. | |
| | Lam Tsuen's wishing tree |
In

year 2008

a tree from Guangzhou was transplanted next to the Lam Tsuen Wishing tree to perpetuate the legend. Unlike the old banyan tree, visitors will not be able to tie oranges to their wishes and throw them onto the new tree.

Lam Tsuen
It was believed that if the orange anchored wish stuck to a branch, the person's wish would come true.
| | |
| --- | --- |
| The 11-metre-high banyan tree was planted next to the original wishing tree near Lam Tsuen's Tin Hau temple. | |
| | Lam Tsuen |
Lam Tsuen area includes 26 villages covering 150 hectares.
Lam Tsuen was founded more than 700 years ago and is now home to different clans including Chung, Chan, Lam, Yau and Ku.

Lam Tsuen
---
| | | | |
| --- | --- | --- | --- |
| Click to see more pictures | | | |
---
comments powered by
---