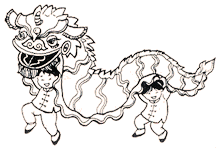 KAM TIN
Kam Tin is an area in the New Territories of Hong Kong. It is located at east of Yuen Long.
Kat Hing Wai is the most famous walled settlement located in Kam Tin. It is a compact village comprised mainly of narrow row-houses and temples separated by small winding alleys.

Fly there

with

Google Earth

Kat Hing Wai
Kat Hing Wai is the oldest village. It was built in the 15th century. It has been reasonably well preserved and is now a major tourist attraction.
| | |
| --- | --- |
| Kat Hing Wai walls is famous for the story regarding the pair of gates which adorn the entrance. | |
| | Kat Hing Wai |
Kam Tin is the principal settlement of the Tang clans in the New Territories and consists of several separate villages.
When the occupation of the New Territories commenced in

1899

by Bristish forces, the Tangs of Kam Tin were in organization of the resistance movement.

Kat Hing Wai
The villagers, as an act of submission, carried the two pairs of gates to Tai Po. In 1924 the residents of Kam Tin petitioned for the return of the gates.
On year

1925

, the Hong Kong Governor arrived at Kam Tin for the ceremonial return of the revered gates.

Kat Hing Wai
The wall was erected to fend off pirates and bandits who were common in the area. The brick walls are about six metres high.

Kat Hing Wai
| | |
| --- | --- |
| There are local old women, in traditional Punti clothes, selling postcards or asking for money in order to take their portrait around Kat Hing Wai walled village. | |
| | Kat Hing Wai |
The watchtowers at Kat Hing Wai in Kam Tin have been designated as "deemed monuments", a temporary measure used by the government to protect a historic building since the 1990s.

Kat Hing Wai
| | |
| --- | --- |
| There is a strong Gurkhas / Nepalese community in Kam Tin. The British Army Gurkha Base used to be near Kam Tin so the Nepalese influence is still evident. | |
| | Kam Tin |
Surrounding villages has a variety of modern concrete houses with three storey.

Kam Tin
| | |
| --- | --- |
| Yuen Long and nearby Kam Tin have a large Nepalese population so food lovers can find some pretty fine food. | |
| | Kam Tin |
There is now a MTR station closed to Kam Tin. Kam Sheung station is located between Pat Heung and Kam Tin. The station attracts quite a number of villagers from Kam Tin since the West Rail Line is their only direct link to the Kowloon urban areas.

Kam Tin
| | |
| --- | --- |
| The Kam Tin Valley has a very scenic countryside surrounded by country parks and woodlands. Living in village house near Kam Tin allows a countryside life. | |
| | Kam Tin |
---
comments powered by
---