FANLING
Increase or decrease font size for easier reading : A+ A-
A small farming settlement for several centuries, Fanling is now a huge satellite town, part of the North district. There is, however, a traditional part of Fanling that still preserves its rural atmosphere.
---
Chinese wines are spirits distilled from rice, millet and other grains as well as from herbs and flowers.
Comprising Sheung Shui, Fanling, Sha Tau Kok and Ta Kwu Ling, the North District is one of the regions where traditional rural features of the New Territories are best preserved.
The north district of Hong Kong develops standardization to cultivate in a more cost-effective manner, urges to increase income agriculturally.



Fly there with Google Earth
The North District has an area of approximately 14 000 hectares and a population of about 300 000. 70% of its population live in public housing estates in the new towns of Sheung Shui and Fanling. The rural inhabitants living in the 111 villages in the district amount to about 40 000 people.
In agriculture, the predominance of rice farming remained until the early 1960s. As rice farming became unprofitable and the New Territories villagers were unwilling to work in urban Hong Kong, they chose to leave Hong Kong and seek employment in Europe.
---
Kwan Tei Tsuen is a village along Sha Tau Kok Road. It still contains many traditional Chinese houses.
Letter-boxes at old buildings are usually sub-standard in that they are small and without clear address indications.



Fly there with Google Earth
Kwan Tei Tsuen village is located near the small Kwan Tei river. The river flows underneath Sha Tau Kok Road before joining Ng Tung River near Kwan Tei Pei Village.
The plain is fertile and suitable for farming. Kwan Tei settled various villages.
The name of Kwan Tei means military place in Cantonese. Barracks were built by former British army.
Kwan Tei accepted a massive influx of postwar refugees, mostly as vegetable cultivators.
A cluster of settlements extended along Kwan Tei periphery and became known as Kwan Tei North Village.
---
Sha Tau Kok Road is a road connecting Sha Tau Kok and Fan Ling in the New Territories. It is located on the border with mainland China and inside the Frontier Closed Area on Hong Kong side.
Many old traditional houses can still be seen along Sha Tau Kok Road. This one is more than 40 years old.
New houses are built in this small hamlet along Sha Tau Kok Road. Houses built in the New Territories have to follow the guidances written in the Small House Policy.
The history of the area is agricultural, but recent developments have seen most of the farming disappear. Although the old rice fields around Fanling have escaped the conversion to container storage that is very much common in the northwest New Territories, they have been put to a variety of quasi-industrial uses.
Tourists can get a flavour of what life was once like in some of the villages along Sha Tau Kok road.
Sha Tau Kok Hoi or Starling Inlet features a small island, which is likely to be dotted with white birds.
The town Fanling has been developed as commuter town but much of the surrounding area is still sparsely inhabited. The least developed areas are those directly opposite Shenzhen, which are inaccessible because they are within the Frontier Closed Area.
Wu Shek Kok is a village near the Shek Chung Au Police Checkpoint. It includes a mangrove situated in a sheltered bay and a remote temple.



Fly there with Google Earth
---
Farmland at Ha Wo Hang can be viewed along Sha Tau Kok Road.
Ha Wo Hang village is close to Luk Keng, which is a well-known tourist attraction famous for its scenery and strong Hakka village influence.



Fly there with Google Earth
This house has been the home of a single large family since 1933.
This beautiful mansion mixing estern and Chinese influence can be seen along the Sha Tau Kok road.
---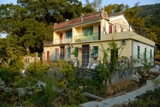 ---