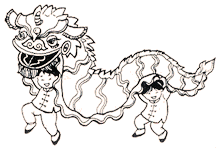 FANLING
A small farming settlement for several centuries, Fanling is now a huge satellite town, part of the North district. There is, however, a traditional part of Fanling that still preserves its rural atmosphere.
This beautiful house mixing Western and Chinese influence can be seen along the Fanling highway.

Along Fanling highway
The North District is situated at the northernmost part of Hong Kong and is separated from Shenzhen by a river.
It was certainly the house of a local rich merchant. Previously clan lineages owned much of the agricultural land in the region and controlled some of the most lucrative aspects of market town commerce.

Fly there

with

Google Earth

Along Fanling highway
This mansion of a rich merchant is built in traditional Chinese style mixing Western influence.

Along Fanling highway
The early settlers in the North District were farmers. So many agricultural lots can still be seen nowadays. Today, Fanling has already been developed into a modern community, yet the changes have not eliminated the traditional agricultural communities and villages.
| | |
| --- | --- |
| In New Territories, there are other beautiful mansions such as Tai Fu Tai Mansion in Sha Tin, Shek Lo in Lung Yeuk Tau. | |
| | Along Fanling highway |
This mansion is privately owned and so cannot be visited. Anyway it is still possible to enjoy its outside architecture by riding a bicycle from Tai Wo.

Along Fanling highway
---
This nunnery is located along the Sha Tau Kok Road. It is surrounded by high walls.

Fly there

with

Google Earth

Along Sha Tau Kok Road
Inside the nunnery, there is a beautiful traditional Chinese garden with pond and elegant buildings.

Along Sha Tau Kok Road
| | |
| --- | --- |
| There is a building where visitors can enjoy drinking tea and looking at the beautiful scenery. | |
| | Along Sha Tau Kok Road |
This nunnery design resembles that of ancient palaces. It includes a pond and a pavilion at the centre of a lake.

Along Sha Tau Kok Road
| | |
| --- | --- |
| The architecture of a garden consists of pavilions for various purposes, walkways, and outer and inner walls. The walls have moon-shaped doorways and small windows in the shapes of vases. | |
| | Along Sha Tau Kok Road |
A Chinese garden mixes man-made landscape with natural scenery, architecture, painting, literature, calligraphy and horticulture.

Along Sha Tau Kok Road
---
| | | |
| --- | --- | --- |
| Click to see more pictures | | |
---
comments powered by
---