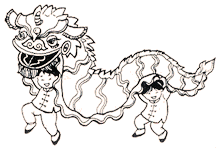 YAU MA TEI
Yau Ma Tei is an area in the Yau Tsim Mong district. It was one of the first areas to be developed after the British acquired Kowloon in 1860.
Having a pineapple bun with butter and a ice milk tea in Mido cafe is a good idea. The retro atmosphere of this 1950s cafe is well known.

Fly there

with

Google Earth

Mido Cafe
Having a small walk in the old neighbouring Yau Ma Tei district allows discovering the local district life.
The atmosphere does have the 1950s feeling with wooden booth seating and green metal window and flickering neon.

Mido Cafe
| | |
| --- | --- |
| Mido Cafe still has an antique cashier machine and serves affordable Chinese breakfasts and snacks all day long. | |
| | Mido Cafe |
This landmark cafe opened its doors in 1950 and not much has changed. It is often used in retro HK movies or TV series.

Mido Cafe
| | |
| --- | --- |
| Mido Hong Kong style coffee is located right in the heart of the Temple Street market and across from the Tin Hau temple. | |
| | Mido Cafe |
Mido cafe is a typical Cha Chaan Teng cafe (Hong Kong style cafe offering food and snacks). Milk tea is highly recommended.

Mido Cafe
| | |
| --- | --- |
| Agter having walked along Temple Street Market and finishing at Ya Ma Tei Tin Hau temple, Mido Cafe is a nice place to rest. | |
| | Mido Cafe |
Many people come to Mido Cafe for its unique 1950s atmosphere and not for enjoying the food.

Mido Cafe
| | |
| --- | --- |
| Mido Cafe's 1950s feel has made it a favorite local for Hong Kong TV series. | |
| | Mido Cafe |
Unique ambiance and old style decoration inside Mido Cafe!

Mido Cafe
---
Shanghai Street is a nice street to wander around Kowloon. It is a 2.3 km long street. Goldfishes to bring good luck.

Shanghai Street
| | |
| --- | --- |
| Shanghai Street is located in the Jordan, Yau Ma Tei and Mong Kok areas and was once the most prosperous street in Kowloon. | |
| | Shanghai Street |
Shanghai Street was marked by 2 to 3 floor Chinese style buildings and many shophouses can still be found around.

Shanghai Street
| | |
| --- | --- |
| Shops in Shanghai street are often related to traditional Chinese trades and livelihood, including this pawnshop. | |
| | Shanghai Street |
Old and traditional 1950s apartments in Jordan area, Kowloon.

Shanghai Street
| | |
| --- | --- |
| Strong competition between local real estate agencies! This shop is covered with their advertisements. | |
| | Shanghai Street |
Before the 1970s when Nathan Road became prosperous, Shanghai Street was the leading business area in Kowloon. Thai shops are everywhere in Hong Kong.

Shanghai Street
| | |
| --- | --- |
| Bakery outlet in Shanghai street. Egg tarts and pineapple buns are favorite local delicacies. | |
| | Shanghai Street |
Many shops selling religious items are present on Shanghai street. Thai huge Buddha statue in front of this shop.

Shanghai Street
| | |
| --- | --- |
| Many Nepalese shops are opened on Shanghai street also. This signboard is close to Nathan Road on the opposite side of Tin Hau temple. | |
| | Shanghai Street |
---
| | | | |
| --- | --- | --- | --- |
| Click to see more pictures | | | |
---
comments powered by
---