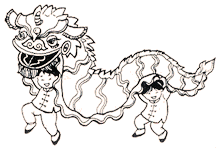 YAU MA TEI
Yau Ma Tei is an area in the Yau Tsim Mong district. It was one of the first areas to be developed after the British acquired Kowloon in 1860.
This hufe block of flats is located at the former Yau Ma Tei Ferry Point. In

1972

, the Harbour Tunnel was built and ferries in the Western Harbour decreased rapidly.

Fly there

with

Google Earth

Block of flats
Ferry Point is in the southern part of Yau Ma Tei. It was a transportation hub where many commuters took ferries to and from Hong Kong Island. The service was offered by Hongkong and Yaumati Ferry.
There are eight 19-storey residential buildings located in Man Cheong Street Area.

Block of flats
The West Kowloon Reclamation will impact the existing residential development in Man Cheong Street.
| | |
| --- | --- |
| The Kowloon Southern Link will link the existing East Rail Line's East Tsim Sha Tsui Station with the West Rail Line's Nam Cheong Station, connecting these two lines at the southern end. | |
| | Kowloon Southern Link |
Upon completion, the Kowloon Southern Link will help provide a direct link between the Northwest New Territories and Tsim Sha Tsui. It will take only 30 minutes to travel from Tin Shui Wai to East Tsim Sha Tsui.

Kowloon Southern Link
| | |
| --- | --- |
| This new 3.8 km long rail link will have one intermediate station called Station. | |
| | Kowloon Southern Link |
---
Development and redevelopment within the Yau Ma Tei area are ongoing. The Central Kowloon Route will connect Yau Ma Tei to the area around the old Kai tak airport.

Old building
Yau Ma Tei still have street names such as Ferry Street and Reclamation Street that remind of older past where a Typhoon Shelter was located there. The reclaiming land is now the location of Ferry Street.

Fly there

with

Google Earth

Ferry Street
Old shop-houses can still be found around Reclamation Street area.

Fly there

with

Google Earth

Old building
| | |
| --- | --- |
| Yau Ma Tei's streets offer an assortment of jewellery shops selling jade. | |
| | Jewellery in Yau Ma Tei |
Many old shop-houses can still be found around Reclamation Street area.

Old building
| | |
| --- | --- |
| Some old shop-houses are hosting jewellery shops selling jade. | |
| | Jewellery in Yau Ma Tei |
---
| | |
| --- | --- |
| Click to see more pictures | |
---
comments powered by
---