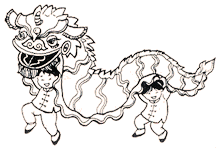 SHAM SHUI PO
Nowadays Sham Shui Po District is covered mainly by residential buildings and public housing estates. Famous old public housing estates in Sham Shui Po district were Shek Kip Mei Estate and So Uk Estate.
Buildings that are 30 years old and above in unsatisfactory conditions or are not up to modern fire safety building design or installation requirements are targeted for redevelopment. Individual pre-war buildings without modern sanitary facilities are also prioritised for redevelopment.

Sham Shui Po
| | |
| --- | --- |
| Old traditional shop in Sham Shui Po area close to former Shek Kip Mei Estate. | |
| | Sham Shui Po |
Shek Kip Mei Estate is the first public housing estate in Hong Kong. The construction was the results of a 1953 fire in Shek Kip Mei. The majority of inhabitants in the squatters over the hill lost their homes in one night. The estate was built to settle their families.

Fly there

with

Google Earth

Shek Kip Mei Estate
These types of housing estates were built mostly in the 1960's by the Hong Kong govennment to accommodate the influx of refugees from China.
| | |
| --- | --- |
| By the 90's the housing estates were mostly elderly. The 7-storey tall buildings have no lift, residents have to climb up and downstairs everyday. Private spaces were very limited, and people of the same floor had to share the same toilet, bathroom and kitchen. | |
| | Shek Kip Mei Estate |
The apartments were small - only about 300 square feet (28 square metres) - and housed 5 people each.
In

year 2006

, the demolition started. A total of 15 blocks are included in the redevelopment project, and Mei Ho House will be preserved as a museum. A second building will be turned into an artists' village..

Shek Kip Mei Estate
| | |
| --- | --- |
| Some buildings are old and there is a need to revitalise the community. | |
| | Sham Shui Po |
Some local residents welcomed the move to redevelop the area because of the poor condition of the buildings. Some residents complained of fragments falling from the ceiling and water dripping from pipes. There was no management in his building and resident families had to sweep the staircase themselves.
After building demolition, some residents have been relocated to public flats outside the district due to limited supply in Shamshuipo.

Old building backed by modern buildings
Under the Land Resumption Ordinance, 80 per cent of the properties have to be acquired before launching a redevelopment. Issues always happen when some residential or commercial tenants are not be able to be relocated in the same district.
| | |
| --- | --- |
| This old building was built in 1930s. It is now used as a Public Dispensary and Methadone Clinic. | |
| | Sham Shui Po dispensary |
Due to old district redevelopment, many local residents have to move away from their friends, from relatives who take care of them. Some have had to move away from the district they lived in all their lives. Businesses that depend on cheap rents, like laundries and tyre shops, have also had to close as they are not able to find such cheap rent when districts are redeveloped.
Many Sham Shui Po buildings were built in the 1950s and include shops and restaurants on the ground level with walk-up residential buildings.

Old shop-house
| | |
| --- | --- |
| Many old and traditional shops can still be found in Sham Shui Po local market. | |
| | Sham Shui Po traditional pharmacy |
Accordign to Urban Renewal Authority, many buildings in Sham Shui Po need to be redeveloped because they are decaying rapidly.

Old building
---
Shek Kip Mei hill is located on high ground, with Lion Rock in its background.

Fly there

with

Google Earth

View from Shek Kip Mei hill
Views from the hill top of Shek Kip Mei hill allow looking towards Sham Shui Po and Shek Kip Mei Estate.

View from Shek Kip Mei Service Reservoir
| | |
| --- | --- |
| From Shek Kip Mei hill, visitors can enjoy incredible view on Kowloon East with its impressive skyline of public-built housing. | |
| | View from Shek Kip Mei hill |
---
| | |
| --- | --- |
| Click to see more pictures | |
---