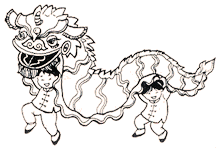 SAU MAU PING
The old "illegal-tolerated" four temples were finally demolished in year 2008. All the temples have to make way for new public estate buildings development at Anderson Road.
A new Tin Hau Temple has been rebuilt in Sau Mau Ping area also.

Fly there

with

Google Earth

Sau Mau Ping local temple
A new land platform next to the junction of Po Lam Road and Sau Mau Ping Road has been created for accommodation of the new temples.
| | |
| --- | --- |
| Its full name is Hoi Kwok Tin Hau Shing Mo Temple (海國天后聖母廟). The opening ceremony happened in year 2012. The previous one, located on Anderson Road, was demolished in 2008. | |
| | Sau Mau Ping local temple - Tin Hau |
This Tin Hau temple is quite big, being a building with two stories.

Sau Mau Ping local temple - Tin Hau
| | |
| --- | --- |
| This board is covered with nails and was used previously by the spirit medium. It was used for self-mortification by the spirit medium. | |
| | Sau Mau Ping local temple - Tin Hau |
Deities statues are displayed in this new Tin Hau temple.

Sau Mau Ping local temple - Tin Hau
---
| | |
| --- | --- |
| A new Monkey God Temple has been rebuilt in Sau Mau Ping area also. | |
| | Sau Mau Ping local temple - Monkey God |
The new Monkey God Temple is very colorful and nice but it lacks some authenticity compared to the former old Monkey God Temple complex.

Sau Mau Ping local temple - Monkey God
| | |
| --- | --- |
| When the Monkey God Festival does happen on Day 16 of Eighth Lunar Month, the statue effigy is removed and put in a temporary altar on a local sport playground where the festival takes place. | |
| | Sau Mau Ping local temple - Monkey God |
The new Monkey God Temple is of course very beautiful but visitors won't get the same feeling as the old temple having a forty years history.

Sau Mau Ping local temple - Monkey God
---
| | |
| --- | --- |
| A new modern and colorful Shing Wong Temple has been rebuilt in Sau Mau Ping area also. | |
| | Sau Mau Ping local temple |
Shing Wong is the guardian god who protects and watch over cities.

Sau Mau Ping local temple - Shing Wong
| | |
| --- | --- |
| The former dark statues from the previous Monkey God complex have been replaced by new colorful statues. | |
| | Sau Mau Ping local temple - Shing Wong |
Those four statues (two on each side of the main altar) depict the four Heavenly Kings, who are Buddhist protective deities.

Sau Mau Ping local temple - Shing Wong
---
| | |
| --- | --- |
| A new Guanyin Temple has been rebuilt in Sau Mau Ping area also. | |
| | Sau Mau Ping local temple - Guanyin Temple |
Three Buddha statues are displayed also in the new Guanyin Temple.

Sau Mau Ping local temple - Guanyin Temple
| | |
| --- | --- |
| This is a typical entrance to a Chinese temple featuring the incense sticks and red lanterns. | |
| | Sau Mau Ping local temple |
The four temples are now opened but the new estate buildings development on Anderson Road are still ongoing.

Sau Mau Ping local temple
---
---
| | | |
| --- | --- | --- |
| Click to see more pictures | | |
---
comments powered by
---