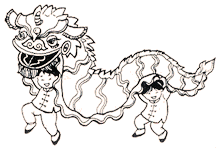 SAU MAU PING
| | |
| --- | --- |
| Tai Wong Ye temple is an "illegal-tolerated" structure located near Tsui Ping Road Estate. | |
| | Tai Wong Ye temple |
This temple, called Tai Wong Ye, is located at Tsui Ping South Estate. The roof of traditional Chinese buildings are usually curved.

Fly there

with

Google Earth

Traditional Chinese roof
| | |
| --- | --- |
| Joss sticks burned before Chinese God in a shrine. Joss sticks are incense sticks burned before a Chinese religious image or shrine. | |
| | Burning incense |
The tiger is the Chinese symbol of strength and power. The tiger is a popular theme in chinese folk art.

Chinese Tiger
---
| | |
| --- | --- |
| | |
| Tai Wong Ye temple | Tai Wong Ye temple |
---
| | |
| --- | --- |
| The Dragon is a symbol of Strength, Goodness, Courage and Endurance. The dragon also symbolizes success and prosperity. | |
| | Chinese dragon |
Joss paper are sheets of paper that are burned in traditional Chinese deity or ancestor worship ceremonies during special festivals.

Men preparing Joss paper
| | |
| --- | --- |
| Tai Wong Ye temple is part of Kwun Tong's numerous scenic sites. | |
| | Tai Wong Ye temple |
Tai Wong Ye temple claims to have more than 1000 devotes coming from near-by estates.

Tai Wong Ye temple
---
The Tai Sing Temple (also called Tai Shing), Temple of Guan Yin and the Shing Wong Temple were housed together at a single complex on a hillside close to Sau Mau Ping roads. In year 2002, the government wanted to relocate the temples on the ground of public safety because they were unauthorised structures.
The worshippers said it was inappropriate to move the temples, which had seen them through many hardships, because it would affect the area's fung shui.

Fly there

with

Google Earth

Monkey God Temple complex
The temples were famous for annual rituals called Monkey God Festival that included possessed medium climbing blades, washing their faces with hot oil and walking on fire with bare feet. The medium remained unharmed.
The temples, covering 900 square metres, were built when ChiuChow and Hoklo squatters appeared in the area.

Monkey God Temple complex
In year 2006, hundreds of Sau Mau Ping residents took statues of their deities from their temples to a protest in Central district to demand that the government not demolish three Buddhist and Taoist temples that have protected them for decades.
| | |
| --- | --- |
| The Buddhist and Taoist temples, built in 1964 without government approval, made way for a road to meet expected traffic demands from a housing project, which will have 48000 residents. | |
| | Monkey God Temple complex |
Local people often visited the temples for advice.

Monkey God Temple complex
| | |
| --- | --- |
| Each of the three temples has its own area of influence. Tai Sing mainly helps people with bad luck and health problems, Guan Yin looks after romance matters as she is a lady, and Shing Wong, who is in charge of hell, handles cases in which people are haunted by evils. | |
| | Goddess of Mercy Guan Yin |
The Monkey God Temple complex includes the Monkey God (Tai Shing) but also other deities such as Guan Yin, Shing Wong and Tin Hau.
About 50 people visited the temples daily, while more than 100 worshippers went there on the first day and middle of each month.

Shing Wong temple
It is said that The Buddha designated the site for Tai Sing Temple. There are also other fung shui matters involved.
| | |
| --- | --- |
| The government had decided to demolish the temples in Kwun Tong because they were illegal premises. | |
| | Shing Wong temple |
---
| | |
| --- | --- |
| | |
| Guan Yin temple | Shing Wong temple |
---
The temples were renovated once every three years but otherwise they did not change that much.

Shing Wong temple
| | |
| --- | --- |
| While it is a ritual that worshippers paid tribute to the gods at the beginning and the middle of each Lunar month, many people, including those from outside Sau Mau Ping, went to the temples to seek assistance when they encounter difficulties. | |
| | Shing Wong temple |
The former Monkey God Temple complex was certainly not as nice as the new complex but it has more authenticity due to a longer history.

Monkey God Temple complex
| | |
| --- | --- |
| All the statues of the former Monkey God Temple complex have been replaced by new consecrated ones. | |
| | Shing Wong temple |
The old "tolerated" four temples were finally demolished in year 2008. All the temples have to make way for new public estate buildings. A new Monkey God Temple has been rebuilt in Sau Mau Ping area also.
A new land platform next to the junction of Po Lam Road and Sau Mau Ping Road has been created for accommodation of the new temples.

Fly there

with

Google Earth

New Monkey God temple
---
---
| | | |
| --- | --- | --- |
| Click to see more pictures | | |
---
comments powered by
---