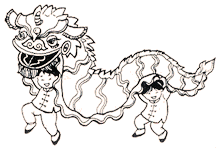 MONG KOK
Mong Kok is an area in the Yau Tsim Mong District and featuring many outdoor markets.
Ladies' Street Market specializes in women's clothing, accessories, cosmetics.

Fly there

with

Google Earth

Ladies' Street Market
Many of the street markets are in the Mongkok district.
| | |
| --- | --- |
| Fresh delicious fruits are available for sale in Ladies' Street market. | |
| | Ladies' Street Market |
Some shops sell fresh delicious fruits and also fruit baskets to be offered as gifts.

Ladies' Street Market
| | |
| --- | --- |
| Egg tarts are a kind of pastry popular in Hong Kong cuisine and are available in all Hong Kong local bakeries. | |
| | Ladies' Street Market |
Many accessories and various gadgets "made in China" are sold in Ladies' Street market.

Ladies' Street Market
| | |
| --- | --- |
| Ladies Market is an outdoor street market with lots of stalls where local and tourists can buy anything from copy watches to made in China souvenirs and clothes. | |
| | Ladies' Market |
---
Mong Kok population density is extremely high. According to Guinness World Records, Mong Kok has the highest population density in the world, i.e. 130 000 per km2.
Rising 42 storeys above Mongkok, the Langham Place Hotel is located in the vibrant heart of Kowloon peninsula.

Fly there

with

Google Earth

Langham Place
Mong Kok has one of the largest red-light districts in Hong Kong. Several streets in the area are characterised by old buildings packed with dizzying neon signs of brothels and massage parlours.
| | |
| --- | --- |
| The district is characterized by a mixture of old and new multi-story buildings. | |
| | Mong Kok |
Langham Place in Mongkok, Kowloon, is a very busy area on every week-end as it is one of the shopping mecca in Hong Kong.

Langham Place
| | |
| --- | --- |
| Urban decay and renewal is also ongoing in some parts of Prince Edward road. | |
| | Prince Edward Road |
Lui Seng Chun, one of the city's oldest Chinese tenement buildings and the former home of Lui Leung, a Kowloon Motor Bus founder, was built in 1931 by local architect W.H. Bourne. The ground floor used to house Lui's Chinese medicine shop. The family lived on the upper floors. Lui's descendants lived there up to the 1980s.

Fly there

with

Google Earth

Lui Seng Chun
The family donated the historic Prince Edward building to the government in 2003. It has been vacant since restoration in 2004. The Antiquities and Monuments Office said a consultancy was continuing on the best use of the shop-house. It is a grade one building.
| | |
| --- | --- |
| The ground floor of the building was occupied by a Chinese medicine shop, while the upper floors became living quarters for the members of Lui's family. | |
| | Lui Seng Chun |
---
The Kwun Yam Temple in Mongkok is now stuck between two high-rises after redevelopment.

Fly there

with

Google Earth

Kwun Yam Temple
| | |
| --- | --- |
| Kwun Yam deity is commonly known in the West as the Goddess of Mercy. | |
| | Kwun Yam Temple |
---
| | | | |
| --- | --- | --- | --- |
| Click to see more pictures | | | |
---
comments powered by
---