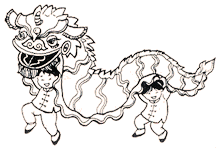 MONG KOK
Mong Kok is an area in the Yau Tsim Mong District and featuring many outdoor markets.
| | |
| --- | --- |
| Those old 1920-1930s shophouses are located on Shanghai street in Mongkok area, Kowloon. | |
| | Shanghai street |
The row of old shophouses on Shanghai street are part of HongKong heritage and are protected buildings.

Shanghai street
| | |
| --- | --- |
| This area in Shanghai street is one of the last intact rows of shophouses in Hong Kong. | |
| | Shanghai street |
---
Aquariums are popular in Hong Kong because of their perceived luck-bringing quality when properly positioned in the home. Mong Kok's Goldfish Market is a favourite source of supply.

Goldfish Market
| | |
| --- | --- |
| Both sides of Tung Choi Street are lined up with fish shops, waiting for customers. The stores are full up with fish tanks and the tanks are stuffed with huge numbers of exotic fishes. | |
| | Goldfish Market |
---
The Flower Market Street, devoted to wholesale and retail flower shops, is at its best just before Chinese New Year when locals buy up armfuls of flowers.
Located near the Prince Edward MTR station, there is a whole street called

"Flower Market Road"

and a few side streets all lined with flower shops selling all kinds of flowers and plants.

Fly there

with

Google Earth

Flower Market
| | |
| --- | --- |
| Hong Kong Flower Market is a colourful place to visit during spring to enjoy different varieties of blossoms. | |
| | Flower Market |
The Flower Market has been serving the flower supplies for the whole of Hong Kong since the early 1980's.

Flower Market
| | |
| --- | --- |
| Lucky bamboo is a symbol of good luck, it can enhance the positive energy in environment. Having Lucky bamboo in home, it not only decorates your room but also brings you good fortune and prosperity. | |
| | Flower Market |
Each year, during Lunar New Year Festival period, police implement special traffic arrangements at Flower Market Road Area due to crowd flow in and out.
Flower Market Road is famous for both flower retail and wholesale. Visitors can find hundreds of florist selling fresh flowers from all around the world and New Territories.

Flower Market
| | |
| --- | --- |
| After a visit to Flower Market, a refreshing Ice Milk Tea is welcome. A few shops in Mongkok features the genuine Ice Milk Tea, i.e. the tea and the ice are separated to ensure the tea smoothness is not altered when the ice melts. | |
| | Ice Milk Tea |
---
| | | |
| --- | --- | --- |
| Click to see more pictures | | |
---
comments powered by
---