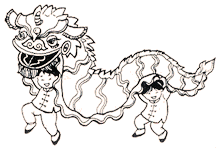 MONG KOK
Mong Kok is an area in the Yau Tsim Mong District and featuring many outdoor markets.
Hundreds of songbirds in crafted cages can be seen at this Bird market, which is on the othe side of Nathan Road on Yuen Po Street.

Fly there

with

Google Earth

Bird garden
Many of the street markets are in the Mongkok district.
| | |
| --- | --- |
| There are many different items for birds comfort. There are beautiful bamboo cages, all types of bird foods, including grasshoppers, crickets, mealy worms, as well as accessories to decorate the cage. | |
| | Grasshoppers in Bird garden |
Formerly located in the heart of Mong Kok, Bird Street moved to its current home in Prince Edward in 1997.
Merchants stock items such as fancy teak cages, tiny porcelain water bowls to pamper birds.

Bird garden
| | |
| --- | --- |
| The birds bring good luck to their owners and are prized not for their plumage but for their voices. | |
| | Bird garden |
The garden is Chinese style, with about 70 bird stalls showcasing a variety of melodious songbirds.
Inside the Bird Garden, there is a market inside, where visitors can buy wide variety of birds.

Bird garden
| | |
| --- | --- |
| The garden is built as a traditional Chinese garden and local people are always eager to share with others birds experiences. | |
| | Bird garden |
In Hong Kong birds are valued more for their songs than their appearance.

Bird garden
| | |
| --- | --- |
| Hong Kong men who come here to chat with their friends or read newspapers while their pet birds sing from cages hung in the trees. | |
| | Bird garden |
Yuen Po Street Bird Garden is a Chinese-style theme park. It occupies an area of about 3000 square metres.

Bird garden
| | |
| --- | --- |
| The Bird garden is popular with seniors who enjoy displaying and comparing their feathered friends. | |
| | Bird garden |
There are hundreds of birds on display and the price of a bird is often decided by how well the bird sings.
Bird traders and fanciers can meet and share their fun and experiences.

Bird garden
The decision to build this Bird Garden originated from the demolition of the bird stalls in Hong Lok Street, which was known as "Bird Street" and famous for its many stalls selling birds. Since the bird street became part of Hong Kong heritage, it was decided to preserve its characteristics and spirit by building this bird garden in Yuen Po Street.
| | |
| --- | --- |
| Apart from the birds, there are also other accessories for sale, including bamboo and teak cages, ceramic water vessels and food containers and different types of bird food, including live crickets. | |
| | Bird garden |
Bird lovers congregated in Yuen Po Street to air their birds, let them sing and talk about them.

Bird garden
| | |
| --- | --- |
| Bird Street has stalls selling row upon row of birds in beautifully lacquered traditional Chinese birdcages. | |
| | Bird garden |
This shop owner is building a beautiful lacquered traditional Chinese birdcage.

Bird garden
| | |
| --- | --- |
| The Bird garden is a popular place for birds lovers to air their birds, let them sing and talk about them. | |
| | Bird garden |
---
| | | |
| --- | --- | --- |
| Click to see more pictures | | |
---
comments powered by
---