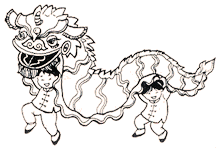 KWUN TONG
The Kwun Tong district is located in Kowloon. It is the most densely populated district with 55 000 per km2, but it is also one of the largest industrial areas in Hong Kong. The district contains Kwun Tong, Ngau Tau Kok, Kowloon Bay, Sau Mau Ping, Lam Tin, Yau Tong and Lei Yue Mun.
| | |
| --- | --- |
| Being old urban areas, these surrounding areas are generally densely populated and short of open space. | |
| | Cha Kwo Ling |
Sai Tso Wan Recreation Ground was commissioned in April 2004. The Recreation Ground occupies an area of about 2 hectares, which was built on the restored Sai Tso Wan Landfill. The site received approximately 1.6 million tonnes of domestic and commercial waste during 1978 to 1981, and the maximum thickness of waste was about 65 meters.
Old boat belonging to the Hop Yee Dragon Boat Committee and used during Dragon Boat festival.

Cha Kwo Ling
| | |
| --- | --- |
| Rural committees represent the welfare of indigenous residents and are present in all Hong Kong villages. | |
| | Cha Kwo Ling |
A strip of squatter huts lies at the foothill along Cha Kwo Ling Road fronting Cha Kwo Ling Public Cargo Working Area.

Cha Kwo Ling
| | |
| --- | --- |
| This Tin Hau Temple was first built in 1821 and moved to the present site in 1941. It was renovated in years 1947 and 1999. The carvings on the wooden doors are very vivid and colourful. | |
| | Tin Hau Temple |
The archaic and rustic look of the temple was created by the original materials used when renovating the temple in year 1999.
Cha Kwo Ling Tin Hau Temple is sited by the coast of Kwun Tong Bay at the place of the present Laguna City. It was built in mid 19th century. It was rebuilt in 1891, destroyed by typhoon in 1912, and again rebuilt in 1941. In 1947, for the development of Oil Tanks, the temple was moved to the present site and completed in 1948.

Tin Hau Temple
Cha Kwo Ling Tin Hau Temple was again repaired in

year 1999

. The temple is a two-hall type building with three houses. It is built of granite. The stone inscriptions inside the temple provide evidence on the development of the Kwun Tong region.

Tin Hau Temple
The Tin Hau Temple located in Cha Kwo Ling Village was built in Qing Dynasty. The temple was then moved to Cha Kwo Ling Road in 1948. Local residents are still very respectful to Tin Hau nowadays.

Tin Hau Temple
| | |
| --- | --- |
| Lei Yue Mun lies at the southern tip of the Ngau Tau Kok Peninsula. It is the water passage lying to the east of Hong Kong Island. Early in the Sung Dynasty, it was the main sea route for the merchant ships sailing between Fukien and Kwangtung provinces. | |
| | Lei Yue Mun |
To its north is the Devils Peak, with a lighthouse standing at the coast. It directs the ships coming into the harbour. The lighthouse still exists.
Tourists may walk along the main path leading to the lighthouse and the Tin Hau Temple to admire the beautiful scenery of the Victoria Harbour.

Lei Yue Mun
| | |
| --- | --- |
| The temple was built some 200 years ago by a notorious Qing Dynasty pirate to worship Tin Hau, the Goddess of the Sea. Popularity of the Tin Hau in Hong Kong bears witness to its roots as a fishing community. | |
| | Lei Yue Mun Tin Hau Temple |
The Lei Yue Mun Rock Carvings form a good place for sightseeing and photo taking.

Lei Yue Mun Rock Carvings
| | |
| --- | --- |
| Villages in Lei Yue Mun have been in existence for more than 150 years. In the past, villagers worked as farmers, fishermen and quarry workers, and in the 1960s they started to operate seafood restaurants in Lei Yue Mun. | |
| | Lei Yue Mun |
---
| | |
| --- | --- |
| Click to see more pictures | |
---