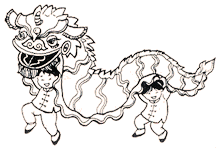 Kowloon Tong
Kowloon Tong is an expensive low density residential district.
Kowloon Tong include many small private schools teaching English and Mathematics for local students.

Kowloon Tong
The Maryknoll Convent School has been providing quality education to Hong Kong since 1925. The main school complex, constructed in 1937, reflects several different styles of architecture including Art Deco, Romanesque, Neo-Georgian and Gothic Revival.

Fly there

with

Google Earth

Maryknoll Convent School
In 2008 Maryknoll Convent School in Kowloon Tong was formally declared a monument under the Antiquities and Monuments Ordinance.
The Kowloon Tong Church of the Chinese Christian and Missionary Alliance was incorporated in 1950.

Fly there

with

Google Earth

Chinese Christian & Missionary Alliance Church
| | |
| --- | --- |
| Kowloon Tong is a major interchange of MTR and KCR, for which the KCR serves the New Territories area, and MTR serves the urban areas. | |
| | Path along KCR |
Martial arts legend Bruce Lee used to live in Kowloon Tong. In 2008, the former Hong Kong home of kung fu legend Bruce Lee was to be sold to raise money for China's earthquake relief effort. Until five years ago the house was used as a "love hotel" where couples rented rooms at hourly rates, much to the disappointment of Bruce Lee fan club members who wanted it turned into a museum.
The neighborhood is known for its love motels, built to accommodate courting couples and businessmen who arrive with mistresses.

Love motels
---
It is the largest Taoist temple in the Kowloon City district with various halls and altars dedicated to different deities and sacred purposes.

Fly there

with

Google Earth

Shang Sin Chun Tong
Shang Sin Chun Tong was established in 1952. It comprises the "Sam Tsing Zing Hall", "Men Su Dai Hall", "Kwun Yam Hall" and "Dau Mou Hall".

Shang Sin Chun Tong
| | |
| --- | --- |
| Each hall houses the statues of the revered Taoist gods. In the main hall, several deities have been enshrined for the purpose of worship. | |
| | Shang Sin Chun Tong |
Three other famous Taoist temples in Hong Kong are Ching Chung Koon Temple in Tuen Mun, Wong Tai Sin Temple, Yuen Yuen Institute in Tsuen Wan.

Shang Sin Chun Tong
| | |
| --- | --- |
| In 1990, the temple was remodelled by adding traditional gardens. It now features various halls and altars dedicated to different deities and sacred purposes. | |
| | Shang Sin Chun Tong |
There are also soothsayers stationed in the temple so that worshippers can seek the gods' free advice about their families' safety, their future and their prospects in love and marriage.

Shang Sin Chun Tong
| | |
| --- | --- |
| Taoist temples may often be identified by their roofs, which feature Chinese dragons and phoenixes made from multi-colored ceramic tiles. | |
| | Shang Sin Chun Tong |
---
| | | | |
| --- | --- | --- | --- |
| Click to see more pictures | | | |
---