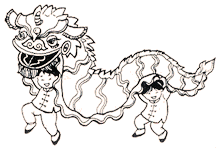 KOWLOON CITY
Due the large number of restaurants and bars run by Thais, the Kowloon City district of Hong Kong is known as Little Thailand.
Typical shop houses can still be found on Kowloon City area. A shop is on the ground floor and the living area is on higher floors.

Kowloon City
| | |
| --- | --- |
| Many 40 to 50 years old buildings have some illegal rooftop constructions. | |
| | Kowloon City |
When wandering around Kowloon City, many old low rise buildings can stil be seen due to proximity with old airport.

Kowloon City
| | |
| --- | --- |
| This another old low rise building is just under destruction. Hong Kong estate market is booming! A forty storey building can be expected. | |
| | Kowloon City |
The Kowloon Walled City and the Kai Tak airport have sealed Kowloon City in our memories despite the rejuvenations of the district over the past years.

Kowloon City
The local district office is now pushing to have Kowloon City recognized as a gastronomic heaven.
| | |
| --- | --- |
| Strong development is now ongoing in Kowloon City as new airport has moved to Lantau. Many old buildings are destroyed. | |
| | Kowloon City |
Many high-rise buildings have been built in Kowloon City after the relocation of the Hong Kong Airport from Kowloon City to Lantau island.

Kowloon City
| | |
| --- | --- |
| Kowloon City district holds the largest number of old buildings (over 1000) and the largest number of dilapidated ones (320). | |
| | Kowloon City |
The removal of the airport in

1998

has spared a vast piece of land with high potential for redevelopment.

Kowloon City
In

year 2010

developers can trigger a compulsory sale after acquiring 80% of a property interest, down from the previous 90%. The law covers residential buildings older than 50 years.

Kowloon City
So the acquisition of old buildings for redevelopment is soaring in Kowloon City and other parts of Hong Kong.
Traditional activities are still be found there such as mortuary paper items preparation.

Kowloon City
| | |
| --- | --- |
| Paper effigies and paper offerings for the dead are still used during cremation activities in Hong Kong. | |
| | Kowloon City |
A new restaurant is opening so friends, family and business partners offer flowers as a good luck gesture.

Kowloon City
| | |
| --- | --- |
| For a new shop opening, flowers are always offered and displayed in front of the shop. | |
| | Kowloon City |
Roasted pork in front of a shop for a ritualistic spiritual offering.

Kowloon City
| | |
| --- | --- |
| Kowloon City is an old district, that has a big Thai community. New buildings start to pop up. | |
| | Kowloon City |
Kowloon City is also called little Thailand. Kowloon City accounts for almost 10% of its population with various ethnies including many Thai people.

Kowloon City
---
| | | |
| --- | --- | --- |
| Click to see more pictures | | |
---
comments powered by
---