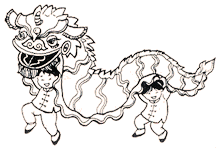 HUNG HOM
Hung Hom is an area of Kowloon, administratively part of the Kowloon City District. It is located nearby to Tsim Sha Tsui. The north part of the area is mainly for residential purposes and is mixed with some industrial buildings. The south part is a residential area, nearby the Victoria Harbour.
Hung Hom is a restructured district in Kowloon after developers reallocated resources here. It is a transportation hub of Hong Kong as well with bus, KCR, ferry, Cross Harbour Tunnel.

Old building
| | |
| --- | --- |
| The older area in northern Hung Hom has more stand-alone buildings. A few of them are located right next to factories. | |
| | Old building |
At Bulkeley Street in Hung Hom, funeral parlors cluster.
Hung Hom area like many areas in Hong Kong include new and old architecture mix.

Old building
In year 2004, there was the opening of a new rail link between Hung Hom and Tsim Sha Tsui.
| | |
| --- | --- |
| The planning controls and building height restriction due to the flight path of the old Kai Tak Airport (it has been waived now) have prevented some parts of Kowloon from having very high rise buildings. | |
| | Old building |
The Hung Hom Bay Reclamation happened in 1994. The bus terminus at the bottom is now the extention of the KCR Hung Hom Station.
Each year during an event held on the 26th day of the first lunar month, thousands of people queue to borrow "money" from the goddess of mercy, Kwun Yam, in a ritual believed to bring good luck.

Kwun Yam Temple
Traditionally, it is the time when Kwun Yam opens her treasury. Worshippers pray in the temples and pay 45 HKD to borrow a red note inscribed with an imaginary sum of money, usually in millions of dollars. They take home a lettuce and a lai see envelope full of peanuts, lotus seeds and other nuts symbolising a prosperous year. They have to return the notes before the following Lunar New Year.
| | |
| --- | --- |
| There is a development potential of the old airport site at Kai Tak adjacent to old urban districts and a possible reclamation in Kowloon Bay. | |
| | Old building |
The Hong Kong Polytechnic University is the largest government-funded tertiary institution in Hong Kong with a total student headcount of about 27 500, of which 13 600 are full-time students, 13 000 are part-time students and 900 are mixed-mode students.

Hong Kong Polytechnic University
---