WAN CHAI
Increase or decrease font size for easier reading : A+ A-
Today, Wan Chai is a very busy commercial district. New high-rise commercial buildings are built on the northern shoreline where the sea was reclaimed.
The Hong Kong Convention Centre was built from 1994 to 1997. It housed the handover ceremonies in July 1997 and is now a major venue for international conferences and events.



Fly there with Google Earth
The extension portion to the Hong Kong Convention and Exhibition Centre was constructed on a reclaimed 6,5 ha island site.
The Hong Kong Convention Centre with its bird-like sculptured roof framed in steel dominates the Victoria Harbour.
The Star Ferry, a Hong Kong ferry service, operates two routes from the Hong Kong Convention Centre across the Victoria Harbour.
Hong Kong island skyline (Causeway Bay and North Point) seen from Hong Kong Convention Centre.
Shui On Centre building has an impressive design including a facade with a Sapphire Blue reflective glass curtain wall. Wavecom APAC office used to be in Shui On Centre until year 2006.
The Grand Hyatt Hotel's immediate neighbourhood is the Central Plaza (on the right) building. The Grand Hyatt Hong Kong hotel is conveniently interconnected with the Hong Kong Conventions and Exhibition Centre.
The Hong Kong Convention and Exhibition Centre is one of the two major convention and exhibition venues in Hong Kong, along with AsiaWorld-Expo.
Aqua Luna is a traditional Chinese junk operated as a floating luxury lounge. It offers Victoria Harbour cruises that include snacks and beverages.
---
The Imperial Cinema has been transformed into a multi-level church facility and centre. It reopened in

year 2011

under the name "The Vine Church".
Mr Wong Sau-ping, tour guide of Wan Chai district said that "In the past, there were over 40 cinemas in Wan Chai, like the Oriental Theatre, but few cinemas are left now, because of rapid urban regeneration in the district".
---
Po wah building features an old style door. Such building are often Commercial Centre so mixing residential flats and private companies. So security is less strict as people go in and out easily. It is frequent to have door-to-door salesmen coming to promote their products.
Queen's Road East in Wan Chai still features many old buidings. Po Wah Building, build in 1961, has been rehabilitated in year 2009. It includes re-painting, re-tiling, replacement of pipes and so on...
---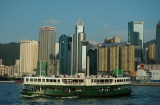 ---
comments powered by

Disqus
---