WAN CHAI
Increase or decrease font size for easier reading : A+ A-
Today, Wan Chai is a very busy commercial district. New high-rise commercial buildings are built on the northern shoreline where the sea was reclaimed.
A part of Wan Chai neighborhood has earned a reputation as a former red light district.



Fly there with Google Earth
The numerous bars, pubs and discos in the red-light district part of Wan Chai are still popular with tourists and visiting US sailors.
Wan Chai is also famous for its huge choice of different restaurants, i.e. Thai, Italian, Cantonese, Philipino, Japanese, Korean, Vietnamese and Indian and so on...
Wan Chai district is well known for its bright lights of entertainment area while Causeway Bay is better known as Hong Kong shopping Mecca.
Lockhart Road is a road spanning the whole length of Wan Chai from east to west on the Hong Kong Island. Part of Lockhart Road near its western end is considered as a red light district with many bars, pubs and nightclubs.
Traditionally, the Wanchai District was where sailors and businessmen headed. During the Vietnam War, Hong Kong's nightlife spread across the harbour. Hong Kong is still a popular R&R centre for warships on patrol in the area.
These days, Wanchai has become respectable with an excellent selection of restaurants and up-market pubs. The number of fishy bars and discos has decreased and being replaced by banks, 7-Eleven outlets or up-market places.
Tonnochy Night Club was a historical night club in Hong Kong.
Various Nightclubs, Karaoke and saunas can still be found around Lockart road area.
Many restaurants offer round-the-clock service to cater to office workers, late night revelers and everyone in between.
Around Lockart road, various sauna and mahjong parlours can still be found.
---
Southorn Playground is a sports and recreational facility located in the heart of Wan Chai district.
Four historical shop-houses (60 - 66 Johnston Road) have been preserved. The four bays of balcony type tenement buildings form a continuous facade verandah facing Johnston Road.



Fly there with Google Earth
Woo Cheong Pawn Shop was built in 1888.
The 4 shophouses have been preserved and restored. The aim was to preserve the building's historic integrity while bringing new life to the space. It is now a bar and restaurant called "The Pawn".
A triple-story, decorated archway with a pre-war frontispiece wall featuring an artistic touch of traditional buildings has been built right opposite to Li Chit Garden in Li Chit Street after the garden's reconstruction. The worst preservation, i.e. razing original building and rebuilding fake facade.



Fly there with Google Earth
This building, which is located at 18 Ship Street, has been identified by the Antiquities and Monuments Office as a grade II historical building.
---
---
This old building is still located on Jaffee road near the Hotel Novotel Hong Kong Century. It is interesting as it features an old shophouse and an old tong lau with balcony.
This old shophouse is still located on Lockart road. It is in an area full of shops selling decoration items.
Wan Chai still features a mix of old and modern buildings.
Two old shophouses are still located on Johnston road near the MTR station.
---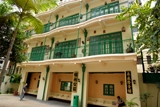 ---
comments powered by

Disqus
---