WAN CHAI
Increase or decrease font size for easier reading : A+ A-
Today, Wan Chai is a very busy commercial district. New high-rise commercial buildings are built on the northern shoreline where the sea was reclaimed.
In

2006

, stallholders in Wan Chai street market have lost their battle to stay after the district council approved a plan to remove half of them and to make way for road access into a new residential complex.



Fly there with Google Earth
Wan Chai stallholders are forced to move out Council approves relocation of 86 vendors to make way for road scheme. None of the 86 stallholders want to move to the indoor market.
The market in Cross Street and Tai Yuen Street, which dates back around 70 years, sells everything from dried food and flowers to clothes and shoes.
Buildings in the back of street market booths are already empty and their demolition has already started.
It has about 150 licensed hawkers and half of whom have to relocate to an indoor market.
Affected stallholders can also surrender their licences and receive 20 000 HKD in compensation.
Many people fight against this decision as open street market is a Hong Kong character that must be preserved.
People complain that Hong Kong business driven policies sacrifice the interest of the low-income group to facilitate property development.
Shop owners said they could not survive in an indoor market because of high rents and fewer visitors to indoor markets. Local stallholders pay 4000 HKD a year to the Food and Environmental Hygiene Department for occupying the street space. They cannot afford the estimated 6000 HKD a month if they move to an indoor market.
The drive to convert Wan Chai from an old residential neighbourhood into a business and services hub began more than a decade ago but in recent years the pace of change has accelerated rapidly.
Pro-development people argue that the blocks in Wan Chai can hardly be said to be historic. They are just old buildings. Society needs to think carefully, whether it is prepared to pay the social cost by keeping them or not.
The old Wan Chai neighbourhood is usually referred as the ageing residential area south of Hennessy Road.
Old houses and modern mansions gather together, creating an interesting contrast. But soon only modern buildings may remain following Wan Chai redevelopment.
Tourists enjoy street-stall shopping in Tai Yuen Street and Cross Street market. About 200 hawker stalls sell a wide variety of dried goods, clothing and household products there.
The Wan Chai street market runs along the intersection of Cross Street and Tai Yuen Street. Strong opposition forced the government to preserve the north and west ends. But stallholders at the east and south ends had to go to make room for traffic.
In year

2007

the Transport Department resolved the issue by using the loading and unloading area at the new market for cars to make a U-turn. To accommodate this arrangement, vehicles are be prohibited from entering Tai Yuen Street except for those with permits. About 150 licensed hawkers at the bazaar benefit from the government's change of heart.
Old Wan Chai market with the modern Central Plaza office building in the background.
---
There are still a number of pawn shops in Hong Kong, several of which are located in Wan Chai. Recently the pawn-broking business in Hong Kong has been on the rise, reaching record levels with roughly 250 pawn shops scattered across the territory. This increase has not come from the traditional customer base of local people, but rather foreign domestic helpers in Hong Kong.
Wan Chai is the richest of the 18 districts of Hong Kong and Sham Shui Po is the poorest, according to statistics released by the Census and Statistics Department in year 2008. Wan Chai residents are also the most highly educated, with 32.3 per cent having a degree.
The century old transport Hong Kong Tramways goes through Johnston Road with its first service opening in

1904

.
Listed as Grade II historic buildings, the Green House is a block of 10 tenement houses which external walls are painted green. It is one of the few remaining "Tong Lau" with balcony in Hong Kong.



Fly there with Google Earth
It is located in 1-11 Mallory Street and 6-12 Burrows Street including 10 tenement houses with a building age estimated to Mid-1920s.
The 10 pre-war residential blocks are unique Chinese-styled tenement houses, "Tong Lau", that were predominantly seen all over southern Chinese cities and town before the 1980s. "Tong Lau"'s existence was a culmination of a series of historic forces from economic development of Hong Kong, Second World War as well as the influx of Chinese migrants to Hong Kong. The 10 tenement houses are Balcony Type shop houses with practical design.
The ground floors of these tenements are used as shops while the three storeys above were residential. Light wells of the tenements are located between the living space and the kitchen at the back but with no toilet facilities.
Six blocks at Mallory Street will be retained and renovated.
The external and main walls are made of plaster rendered red brickwork with tiled timber floor and column and beams of concrete. Conventional grid pattern with the scavenging lanes can be seen. The roofs are original Chinese-tile pitch roof structure.
The Green House was revitalised in the Comix Home Base and reopened in

year 2013

.
---
The URA is redeveloping to the east of the Ship street area. Hopewell Holdings is planning to erect a mega hotel.
There was a concern that the new hotel erection would mean demolition of the historical building Nam Koo Terrace (南固臺). It is known as a famous haunted house.
Ship Street was a pier for ships. Before the land was reclaimed, ships docked here one century ago
During decade 2000s, there was a plan to beautify Ship Street and to build a 2000-room hotel and office complex. THe project was finally delayed and modified.
The work has resumed in

year 2013

. The hotel and complex will be called Hopewell Centre II. The historical building Nam Koo Terrace is preserved and will be revitalised.
Foundations of old terrasses can still be found but not sure it will be preserved with Hopewell Centre II is completed.
---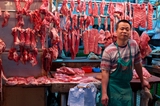 ---
comments powered by

Disqus
---