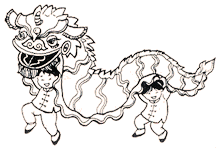 THE PEAK
Victoria Peak is known to the locals as "The Peak" and its spectacular view point is known worldwide.
| | |
| --- | --- |
| Victoria Peak, 554 meters above sea level, is the summit of Hong Kong island and is a great place to look down at the scenery of the Victoria Harbour by night or day. | |
| | View from the Peak |
Many land reclamations have modified the view from Victoria Peak. Over 10% of Hong Kong developed land area has been reclaimed from the sea.

View from the Peak
The most expensive residential neighborhood in the region is found in The Peak.
Tourists and local people can stand and marvel at Hong Kong island amazing skyline and at the restless district of Kowloon.

Fly there

with

Google Earth

View from the Peak
A 7400 square meter location that overlooks the sea in The Peak went for a record per square-foot price of 42 200 HKD in 2006. Luxury homes to be built are expected to reach at least 50 000 HKD per square foot so being among the most expensive residences in the world.
On the other side of Victoria Peak stunning views over East Lamma Channel can be enjoyed.

View from the Peak
When buying property in Hong Kong, buyers don't officially own the land, they are renting it from the government. As Hong Kong returns to China in 1997, newly granted leases generally last for 50 years.
| | |
| --- | --- |
| A visit to Victoria peak after dark is a must to enjoy amazing glittering views. | |
| | View from the Peak |
Best time is to go after a big rain and enjoy a clear sky up up to Kowloon Peak.

View from the Peak
| | |
| --- | --- |
| The Peak Tram is a cable-hauled funicular railway operated since 1888. The 1,4 kilometres line runs between Central and the Peak. The line carries about 12 000 passengers a day. | |
| | The Peak Tram |
---
The old gateway leads to the Ho Tung Garden on The Peak. Behind there is a beautiful mansion equipped with an arcade and a garden.

Fly there

with

Google Earth

Ho Tung Garden
The main building was built in 1927 while the ornamental gateway at the entrance was completed in 1938.
| | |
| --- | --- |
| Sir Robert Ho-Tung was a millionaire and philanthropist in Hong Kong and Macau. The site includes a Chinese style garden with a bridge and a five-storey pagoda and pavilions. | |
| | Ho Tung Garden |
The main residence is built in the Chinese Renaissance style. The large garden has a Chinese pavilion, a Chinese pagoda, a Chinese gateway.
---
| | |
| --- | --- |
| Click to see more pictures | |
---
---