TAI TAM
Increase or decrease font size for easier reading : A+ A-
Tai Tam is an area in Southern District on Hong Kong Island. Tai Tam is situated adjacent to Stanley.
---
Tai Tam Harbour is a harbour in the innermost part of Tai Tam Bay in Hong Kong.



Fly there with Google Earth
Wakeboarding and Water Skiing are very popular in Tai Tam Harbour as the water is cleaner.
Tai Tam Harbour is a speed restricted zone for vessels. 5 knots is the maximum speed allowed.
Around Tai Tam harbour, there are a few deserted villages.



Fly there with Google Earth
---
This area has been expanding lately and there are a number of new-built high-rise estates and townhouse complexes. Most of the accommodation available is new and very well appointed. Many homes have full clubhouse facilities.



Fly there with Google Earth
Red Hill Peninsula is a district with luxurious villas. It benefits from the beautiful scenery of Turtle Cove and Tai Tam Harbour with a peaceful and quiet environment.
---
Under Tai Tam upper reservoir, there is a nice village. It is forbidden and dangerous to live below a dam in case of failure.



Fly there with Google Earth
The government is buying back the houses in the village but there are still many residents not willing to sell in order to enjoy the beautiful and serene views over Tai Tam harbour.
---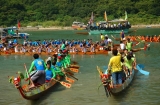 ---
---