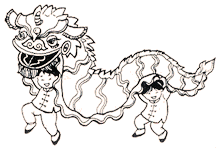 SHEUNG WAN
Sheung Wan is an area located in the north-west of Hong Kong Island. It is part of the Central and Western District.
Built in

1847

, the Man Mo temple was dedicated to God Man (God of Civil Servants and Literature) and God Mo (God of Martial Arts and War).

Man Mo temple
Man Mo temple was the worshipping centre for the Chinese merchants and residents in the Central and Sheung Wan Districts.
The Man Mo temple has rich historical collections with a bronze bell dated 1847, imperial sedan chairs made in 1862 and 1885 as well as couplets and plaques.

Man Mo temple
Located in Sheung Wan deeply traditional area, Man Mo temple is one of the most atmospheric small temples to visit in Hong Kong.
| | |
| --- | --- |
| For a visitor, the main attraction is watching local people burn incense. Large coils of incense are suspended in several layers from the ceiling. | |
| | Man Mo temple |
Incense in coil shape are sold. Local believe these incense are food to the spirits.
With huge bell-shaped coils of burning incense hanging from the ceiling, Man Mo temple is always enveloped in smoke and scent.

Man Mo temple
| | |
| --- | --- |
| About 150 years ago, when disputes could not be settled by British laws, the local people would come to the Man Mo Temple and solve their problems the Chinese way. | |
| | Man Mo temple |
Man Mo Temple is now stucked in between groups of residential high rises in the traditional neighborhood of Sheung Wan.

Man Mo temple
| | |
| --- | --- |
| Many worshipers come to visit this temple to pay their homage to the great gods, Man Mo and Kwan Yu. | |
| | Man Mo temple |
In Man Mo temple English-speaking fortune teller consultations are available.

Man Mo temple
Banners were currently displayed in front of the temple as on

August 06 to 07 2011

, there was be a ceremony to pray for ancestors.

Man Mo temple
So the Man Mo temple is asking to collect names, donations and money for prayers.

Man Mo temple
In

year 2010

Man Mo Temple has been declared a monument under the Hong Kong Antiquities and Monuments Ordinance.

Man Mo temple
Man Mo temple is very popular as tourists groups often go there. So better go early in the morning to avoid crowds.

Man Mo temple
---
| | |
| --- | --- |
| Hollywood Road is the heart of Hong Kong's antique with imports from China and Southeast Asia. | |
| | Along Hollywood Road |
Hollywood Road Park has been the former site of "Dai tat dei", which was also called the "poor man's nightclub". The park is built in Chinese architectural style and is surrounded by buildings nearby.

Hollywood Road Park
The word "Dai tat dei" means a large piece of land and refers to a popular Hong Kong bazaar market located formerly in Sheung Wan in the 1950's to 1960's. It showcased a rendez-vous of old Hong Kong style street entertainment activities. People gathered to browse at night market, eat cheap food and watch free entertainment.
---
| | |
| --- | --- |
| View from Sheung Wan on Central district and its impressive "The Centre" building. | |
| | Along Queen's Road |
Sheung Wan district is famous for its traditional dried seafood shops. During summer, the smell can be quite strong.

Dried seafood shop
---
| | |
| --- | --- |
| Around Sheung Wan district, there are many rice trader shops but recently Thai rice price started to soar in summer 2011. | |
| | Rice traders |
The price of rice imported from Thailand might rise by as much as 30% from Autumn 2011, traders warn.

Rice traders
Thailand's new PM Yingluck Shinawatra promised to raise the income of farmers by buying rice from them at well above market prices.
| | |
| --- | --- |
| In summer 2011, one 25Kg Thai rice bag costs around 280 HKD including home delivery! | |
| | Rice traders |
In summer 2011, Yingluck promised to buy a tonne of paddy rice at 15 000 baht and 20 000 baht per tonne of jasmine rice.

Rice traders
Before her policy was announced, the wholesale price of Thai rice was 13 000 baht a tonne in June 2011. Thailand's jasmine rice used to have 90% of Hong Kong's market share. This fell to about 80% in 2009 and 60% in 2011 because of the strong Thai baht and the weak Hong Kong dollar.
---
| | | | | |
| --- | --- | --- | --- | --- |
| Click to see more pictures | | | | |
---
---