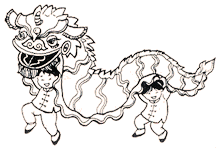 POKFULAM
Pokfulam is a residential area on Hong Kong Island, at the western end of the Southern District.
Pok Fu Lam Village near Chi Fu Fa Yuen is one of the oldest villages on Hong Kong Island and according to the villagers, its history can be traced back to more than 200 years ago.

Fly there

with

Google Earth

Pokfulam village
There is nothing attractive about the present village, which mostly consists of small single-storey stone or wooden structures erected in irregular fashion round the single row of old village houses that constituted the original village.

Pokfulam village
| | |
| --- | --- |
| The larger vessels in Hong Kong's fishing fleet are among the most modern in the region, despite their traditional wooden hulls. | |
| | Fishing vessels |
In year 2001, there were 5250 registered fishing vessels in Hong Kong.

Fishing vessels
| | |
| --- | --- |
| The neighboring waters are busy with lots of container ships and fishing vessels. | |
| | Container boat |
The Chan, clan of Pokfulam, which probably settled the area in the 18th century, is still there today.

Pokfulam village
Cultivate rice was prohibited after the war on Hong Kong Island and Kowloon, as part of a government campaign against malaria.
| | |
| --- | --- |
| At the centre of Pokfulam there is an indigenous village, which is often mistaken as a shanty town by the residents of the surrounding luxury apartments. | |
| | Pokfulam village |
There is also a fire dragon in Pokfulam village. It is bowing to certain shrines in the village.

Pokfulam village
---
---