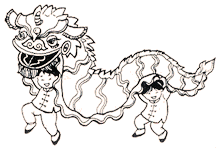 KENNEDY TOWN
Kennedy Town is at the western end of Sai Wan on the Hong Kong Island.
The Hong Kong Society for the Promotion of Virtue was established in

1924

first on the fourth floor of 6-7 Tai Pak Terrace named as Fok Hing Tong. Inspired by Confucianism, Buddhism and Taoism, it promotes the study and practice of ethics and virtues.

Fly there

with

Google Earth

Fok Hing Tong
Its membership increased rapidly in a few years time and therefore in 1927, the society bought the neighbouring number 8-9 as permanent premises. The buildings are typical Chinese tenement houses of five storeys.

Fok Hing Tong
| | |
| --- | --- |
| Each floor has a balcony enclosed with intricate iron railings. The central part is articulated with a slight convex curve. The ground floor is usually rented out for income. | |
| | Fok Hing Tong |
These buildings represent the Chinese settlement housing type of the area in the early 20th century. The society also has branch offices in Tuen Mun.

Fok Hing Tong
| | |
| --- | --- |
| The last owner was saying that this old building was supposed to be destroyed in year 2007. | |
| | Kennedy Town |
The stand-alone buildings are usually old.

Kennedy Town
| | |
| --- | --- |
| The neighborhood is primarily Chinese, but a growing number of expats are moving into a number of luxury buildings built along the waterfront. | |
| | Kennedy Town |
---
During most of the 19th century, there was no burial ground for Eurasians in Hong Kong. The Colonial Cemetery was exclusively for Westerners and the Chinese Permanent Cemetery for Chinese.
Mr Ho Komtong and his brothers were able to persuade the Government to let them buy part of Mount Davis off Pokfulam Road. In

1897

, Chiu Yuen Cemetery for Eurasians was established on Mount Davis.

Chiu Yuen Cemetery
Mr Ho Komtong was able to acquire the fine part of Mount Davis for his own private cemetery. Being knowledgeable in

"feng shui"

, he selected a hillside adjacent to Chiu Yuen Cemetery with a scenic view of Hong Kong harbour. He named it

"Ho Chong"

, which means "Farmstead of the Ho family".

Fly there

with

Google Earth

Ho Chong
---
The presence of public facilities requiring marine access (e.g. the Western District Public Cargo Handling Area in Kennedy Town and the Western Wholesale Food Market in Sheung Wan) and private developments up to the waterfront (e.g. in Kennedy Town and North Point) has limited the opportunity for a continuous waterfront promenade.
Western District Public Cargo Working Area occupies a stretch of coastal area of 14 - 50 m wide. Tugs and dumb steel lighters frequent the berth to facilitate mid-stream operation.

Fly there

with

Google Earth

Western District Public Cargo Working Area
| | |
| --- | --- |
| Overlooking the Green Island, it benefits from the beautiful scenery of Victoria Harbour. Along the coast, mobile shore crane and other lifting gears work busily day and night. | |
| | Western District Public Cargo Working Area |
---
The Belcher's is a high-rise residential development consisting of six residential buildings. There are 63 floors in two of the buildings.

Fly there

with

Google Earth

The Belcher's
---
| | |
| --- | --- |
| Click to see more pictures | |
---
---