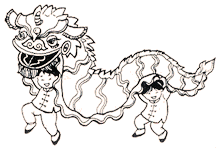 CAUSEWAY BAY
Causeway Bay is located on the northern shore of Hong Kong Island and is covering parts of Wan Chai and Eastern districts.
There are many various leisure facilities in Victoria Park including model boat pool.

Fly there

with

Google Earth

Victoria Park
Located at the city centre of Hong Kong Island, Victoria Park was opened in year 1957 and was named after the statue of Queen Victoria.
Local models boat fans are competiting against each other.

Victoria Park
| | |
| --- | --- |
| Every Sunday, a big part of Victoria Park is occupied by Indonesian Amah or maids. They gather, chat, sing and dance together. | |
| | Victoria Park |
Many outdoor stands provide backdrops and traditional clothes for local Indonesian ladies to take souvenir pictures.

Victoria Park
Victoria Park includes a plantation of over 5 500 trees. With an area of over 19 hectares, Victoria Park is the largest park in Hong Kong Island.
| | |
| --- | --- |
| Smiling Indonesian ladies wearing beautiful traditional clothes in Victoria Park. | |
| | Victoria Park |
In year 2003 most of Hong Kong's 240 000 foreign domestic helpers are from the Philippines, with Indonesia, Thailand, Nepal and Sri Lanka also contributing significant numbers.
Young Indonesian ladies wearing traditional burka and praying.

Victoria Park
In year 2005 there were 120 400 domestic helpers from the Philippines compared with 91 700 from Indonesia. The number of Philippine helpers reached a peak of 155 450 in year 2001, while there were 68 880 Indonesians. Many migrant activists attributed the trend to employers paying Indonesians lower wages, the poor economic situation in Indonesia.
| | |
| --- | --- |
| Many local artists can draw sharp and accurate portraits in a short time. | |
| | Victoria Park |
On Sunday around 6 PM, local maids leave Victoria Park and start to head towards their boss' home.

Victoria Park
---
The ultra-luxurious residential site, comprising of 8 towers of up to 31 floors, is situated between Link Road and the Happy Valley racecourse, with all units having fine open views across to the city and hills.

Fly there

with

Google Earth

Leighton Hill
Srategically located at the heart of the city, Leighton hill commands the panaramic view of the racecourse.

Leighton Hill
Times Square was officially opened in 1994 and is one of Hong Kong's largest shopping malls. Times Square is very easy to find due to its landmark twin towers rising 46 and 39 storeys high above Causeway Bay.

Fly there

with

Google Earth

Times Square
---
The key for popular restaurants is to have a focus on fresh seafood, highlighted by tanks full of live fish near the entrance.

Seafood restaurant
| | |
| --- | --- |
| Causeway Bay is also famous for its huge choice of different restaurants, i.e. Thai, Italian, Cantonese, Philipino, Japanese, Korean, Vietnamese and Indian and so on... | |
| | Causeway Bay by night |
Turtle soup is a popular dish in China with a long tradition as turtles are considered as a delicacy.

Turtle soup shop
Such old buildings are often half commercial and residential buildings. Companies are the lower floors and residential flats are in the higher floors.

Fly there

with

Google Earth

Half commercial and residential building
Po Leung Kuk is charitable organization serving the community with many social services. In the early days, it was engaged in suppressing abduction of women / children and providing shelters and education for such victims.

Po Leung Kuk Community College
---
| | | | |
| --- | --- | --- | --- |
| Click to see more pictures | | | |
---
---