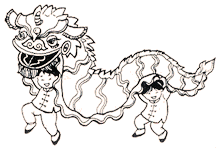 CAUSEWAY BAY
Causeway Bay is located on the northern shore of Hong Kong Island and is covering parts of Wan Chai and Eastern districts.
| | |
| --- | --- |
| Causeway Bay is where shoppers in Hong Kong love to spend their money. The intersection of Hennessy Road and Sogo, one of the most popular department stores in the area, is one of the busiest streets in Hong Kong. | |
| | Intersection of Hennessy Road and Sogo |
All of famous international name brand clothes are in Causeway Bay, as well as watches, luggage and electronics.

Causeway Bay
The Hong Kong Central Library owns the biggest library facilities among the Hong Kong public libraries system. It was opened during year 2001.
The 12-floor library is built on a site area of 9400 square meters with a gross floor of 33800 square meters and has a public seating capacity of over 2000. Its main feature is a Digital Library System.

Fly there

with

Google Earth

Hong Kong Central Library
There was about 1.2 million library materials at the opening and the stock was expected to increase to about 2 million within five years.
---
Victoria Park has the biggest yearly flower show in Hong Kong. Visitors can buy flowers or souvenirs here.

Hong Kong Flower Show
Each year over half-a-million visitors are recorded.
| | |
| --- | --- |
| The Flower Show attracts more than 100 participating organisations from different parts of the world to showcase their artistic floral arrangements and exquisite landscape displays. | |
| | Hong Kong Flower Show |
Organisations from many countries showcase their exotic flowers, landscape and floral art displays.

Hong Kong Flower Show
---
Victoria Park is often a starting point for rallies in Hong Kong island.
Many rallies started in Victoria Park such as rally against WTO, to demand universal suffrage, against anti-subversion laws, against Japan, to observe the anniversary of the Tiananmen.

Fly there

with

Google Earth

Rally at Victoria Park
About 12 000 Hong Kong people marched from Victoria Park to the Central Government Offices, to protest against Japan's approval of a textbook that critics say glosses over the brutal Japanese occupation of China from 1931 to 1945, including the Nanjing massacre of 1937.

Rally at Victoria Park
In

year 2003

, up to half a million people marched in Hong Kong on July 1

st

to protest against new anti-subversion legislation being enacted by the local administration.

Rally at Victoria Park
---
Many yearly events are organized in Victoria Park such as traditional Chinese events (New Year Lunar market, Mid-Autumn lanterns display...), Japanese cultural festival and so on...

Japanese festival at Victoria Park
| | |
| --- | --- |
| Such festivals include delicious Japanese food stalls, traditional dances, clothing and games. | |
| | Japanese festival at Victoria Park |
---
| | | | |
| --- | --- | --- | --- |
| Click to see more pictures | | | |
---
---