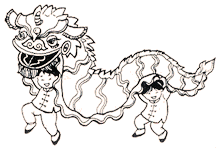 AP LEI CHAU
The Ap Lei Chau island or Aberdeen Island is located south-west of Hong Kong Island, next to Aberdeen Harbour.
The Hung Shing Temple is a notable site, dating back to 1900 and is one of the oldest of this kind.

Hung Shing temple
The Ap Lei Chau island has the highest density in the world with 90 000 inhabitants for a 1.32 km2 area.
---
OCEAN PARK
Ocean Park Hong Kong celebrated its 30th birthday in 2007. It is Hong Kong's biggest home-grown theme park.

Fly there

with

Google Earth

Ocean Park
Ocean Park includes an attraction called the Middle Kingdom. Tourists can see many ancient Chinese structures such as temples, pavilions and streets.

Ocean Park
| | |
| --- | --- |
| The Middle Kingdom is imitating antique Chinese architecture. It reflects Chinese history and reproduces ancient street scenes. | |
| | Ocean Park |
Middle Kingdom includes Datong buddha statue replica. The real statue is 16 meters high and is located at the Yungang Grottes in Shanxi province.

Ocean Park
| | |
| --- | --- |
| Ocean Park features rare and exotic birds, including a beautiful flamingo pond. | |
| | Ocean Park |
There is an underwater viewing tunnel to observe maritime creatures including sharks and many coloful fishes.

Ocean Park
| | |
| --- | --- |
| The two entrances to Ocean Park are connected by cable-car as it is built over a mountain. | |
| | Ocean Park |
Ocean Park is also a lush green home for two giant pandas from China. Both are very popular with local visitors. Tourists can watch them eat and sleep.

Ocean Park
---
| | | |
| --- | --- | --- |
| Click to see more pictures | | |
---
---