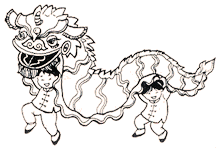 ABERDEEN
Aberdeen is known indigenously as Heung Kong Tsai, which means Hong Kong Minor. It is famous for the boat people living in the harbour and the floating seafood restaurants such as the Jumbo Floating Restaurant and Tai Pak Restaurant.
The Jumbo Floating Restaurant was built in 1976. It is necessary to take a small boat from a pier out to the restaurant.

Pier to floating restaurant
| | |
| --- | --- |
| Huge estates under construction in Aberdeen. The biggest one have more than 30 stories. | |
| | Aberdeen estates |
Hong Kong SAR territory features many traditional Chinese shrines.

Chinese shrine
| | |
| --- | --- |
| This shrine is located next to the Aberdeen bus terminus, towards Wong Chuk Hang road. There are some shrines at the foot of the road leading up to the Ware House, a Teenage Club in Aberdeen. | |
| | Chinese shrine |
There are prominent rock formations beside the shrines.

Chinese shrine
| | |
| --- | --- |
| Within Hong Kong, there are about 450 various Chinese temples (Buddhist, Daoist, folk religion, ancestral). | |
| | Chinese shrine |
Hong Kong has retained deities and practices, which have disappeared from China already.
---
JUMBO FLOATING RESTAURANT
Jumbo Floating Restaurant is famous for its seafood cuisine and owns a large-scale aquarium that keeps over 60 kinds of fresh catch.

Fly there

with

Google Earth

Jumbo Floating Restaurant
| | |
| --- | --- |
| To get to Jumbo Floating Restaurant, visitors can take a free shuttle boat from either Aberdeen Pier or Shum Wan Pier. | |
| | Shum Wan Pier |
The Jumbo Seafood Restaurant was custom-built restaurant in the 1980s. The 85m (250 ft) Jumbo Seafood Restaurant, the biggest ever built, gradually earned the most business.

Jumbo Seafood Restaurant
| | |
| --- | --- |
| Tai Pak Floating Restaurant was built on a 105 ft long boat was a sensation in Hong Kong due to its luxurious deco, fresh catch and wide range of Chinese cuisine. | |
| | Tai Pak Floating Restaurant |
Jumbo Floating Restaurant and the Tai Pak Floating Restaurant in Aberdeen Harbour. Over 30 million visitors have visited Jumbo Kingdom.

Floating Restaurants
The Tai Pak has a longer history and was very popular in the 1950s and 1960s.
| | |
| --- | --- |
| The Jumbo Kingdom is centred on the Jumbo and Tai Pak Floating Restaurants in Aberdeen Harbour. | |
| | Floating Restaurants |
---
| | | |
| --- | --- | --- |
| Click to see more pictures | | |
---
---