HUNGRY GHOST FESTIVAL
Increase or decrease font size for easier reading : A+ A-
In Hong Kong, the Hungry Ghost Festival (盂蘭節) is a major Buddhist and Taoist event. Hungry ghosts are the restless spirits of people who did not have a funeral. There is no one visiting their graves and they do not receive the gifts that Chinese people would take to their ancestors to pay respects. They miss out on food and spirit money.
---
Shop, located on Queen's road, selling incense and paper funeral offerings. This shop sells miniature paper representations of everything that an ancestor might need in the afterlife, i.e. three-story villas and household help, handbags with matching shoes, electric fans and fine cognac.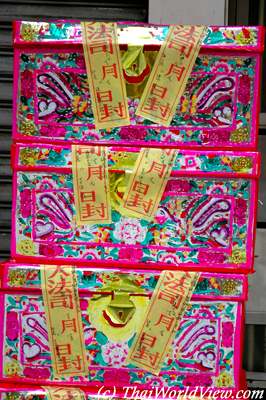 During this festival, many shops are selling paper items to be burnt and offered to the wandering hungry spirits.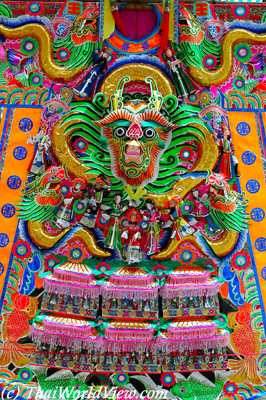 Huge paper mache models of clothes for ghosts. It will be burnt at the end of the festival.
---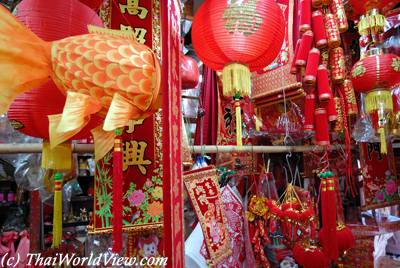 Many old shops are being forced to close to make way for new towers or because they cannot afford expensive rentals. One of them is Chow Kee shop which deals with paperwork associated with traditional ceremonies (Hungry Ghost Festival...) and which has been on Stauton Street since one century.
The papercraft and offering store, Chow Kee, stands out due to the lanterns and Chinese decorations in various shapes of red decorating the front.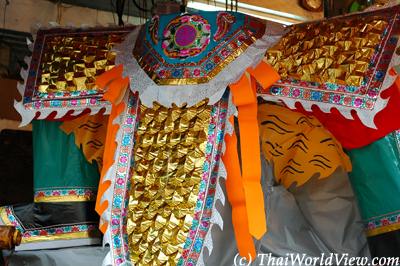 The old papercraft master still makes the paper effigy of the Hungry Ghost king on Aberdeen Street from scratch. During the Hungry Ghosts festival, he creates a five-meter tall "Ghost King" and other figures from paper and bamboo.
In year 2008, the old papercraft master was forced out of his century-old shop because of the high rent but finally found a new shop on neighbouring Elgin Street. The body of the paper effigy of the Hungry Ghost king was even stored temporary in an outdoor fish store before. It is not possible anymore as a trendy bar has replaced the fish store.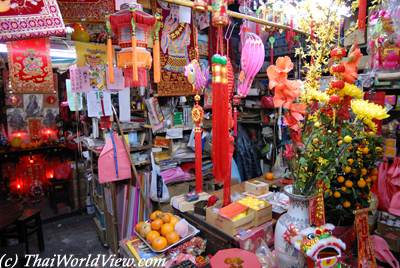 A businessman even had offered the old papercraft master a space in Tsim Sha Tsui but he preferred to stay in the neighbourhood as most of the customers are long-time residents of the neighbourhood, who drop by on their way to shop and chatter away.
Mr Chan's skilful hands have created large paper sacrifices for traditional religious functions and delicate goldfish lanterns. He finally moved to G/F, 14E Elgin St., Central. At the Hungry Ghost festival in Aberdeen street, Chan has always been commissioned to make a paper Ghost King that is over 20 feet tall. According to Chan, the 1930s was the prime period for the ritual paper craft business.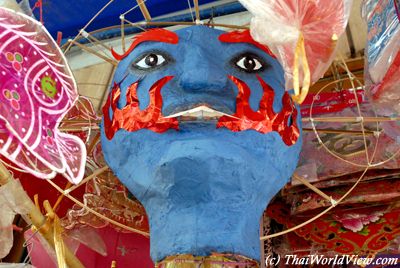 The Ghost paper effigy is built by Mr Chan, master born in year 1919 and still living a few streets away.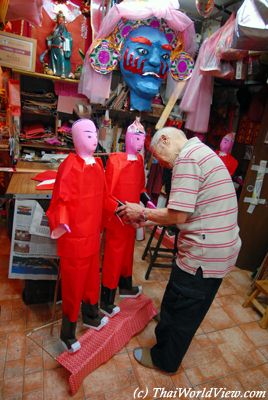 Mr Chan, old papercraft master born in 1919, is still working in Chow Kee paper shop in Central district on Hong Kong island. He is working on the paper effigy of the Hungry Ghost king that is displayed every year on Aberdeen Street during Hungry Ghost Festival.
Mr Chan passed away in year 2013. The Ghost King is now produced in a factory in Kowloon area.
---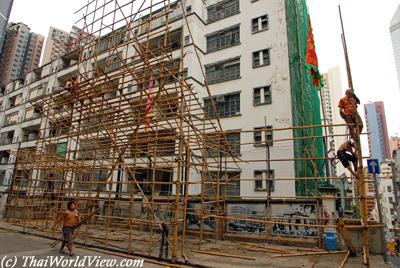 Hungry Ghost festival is still happening in Aberdeen street in Central vibrant district. In the nearby street called Staunton Street, new modern towers are built following the Urban Renewal Authority decision to redevelop the area.
Fears happening that Hungry Ghost festival 2010 in Aberdeen street, Central district, was likely to be the last celebration. But Urban Renewal Authority couldn't acquire enough properties in the area to launch a complete redevelopment, so the festival will still happen at least for a few years...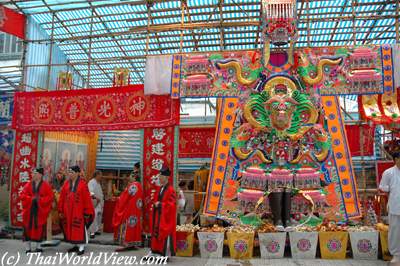 The Hungry Ghost festival in Abderdeen street is noisy, colourful and stands in sharp contrast to sophisticated and superficial SoHo.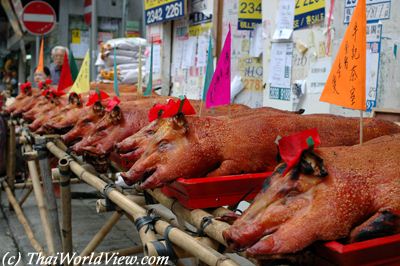 Food is offered especially whole roasted pig and colored cakes.
To drive away the wandering spirits, roast suckling pig and fruit are offered, along with paper offerings.
Paper offerings depicting the Eight Immortals can often be seen in the temporary matsheds built for the Festival of the Hungry Ghosts.
The culmination of the event is the burning of the paper offerings in the evening, to keep the ghosts away for another year.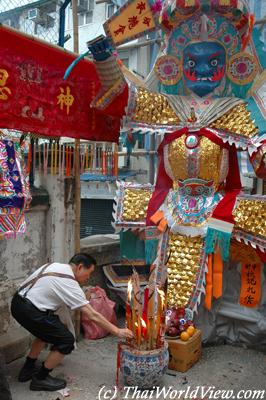 Huge, fiery and striking paper effigy representing Taai Si Wong sitting on a temporary altar. Each dialect group has his own style of paper sculpture. Blue-faced Taai Si Wong is made by the Chiu Chow people. Chow Kee shop made this 2-storey tall Ghost King.
People believe it rains every year until rice is distributed to the elderly.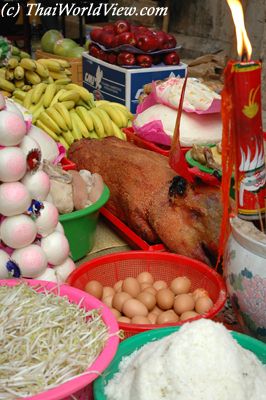 Except for the food, which is distributed later, everything else is burned, i.e. paper clothing and spirit money...
An old man makes the paper effigy of the Hungry Ghost king on Staunton Street from scratch. This paper-craft master has now found new premises for his business. Chan Kwei-chow, who has been in the trade for more than 70 years, is well known for making larger-than-life paper idols and lanterns. He has relocated his shop to the nearby Elgin Street.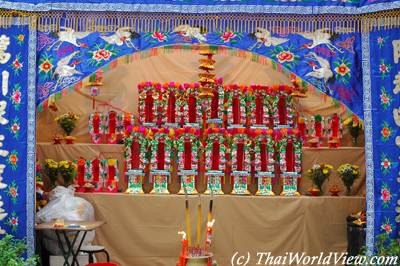 Many return to pay respects to their ancestors because their ancestral altar is still here.
Elderly women spend hours folding gold and silver paper into bars of gold.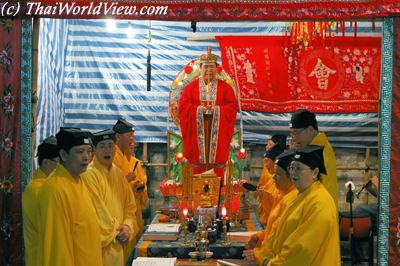 From time to time, Buddhist monks or Taoist priests come in turns to chant their liturgies.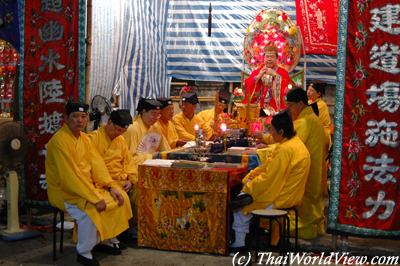 Buddhist monks or Taoist priests chant their liturgies.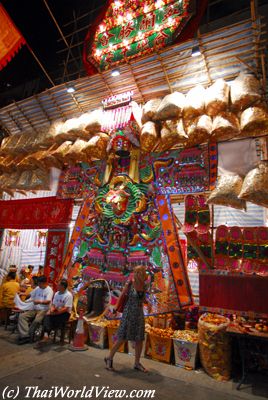 Central is nowadays a modern business and commercial district so it is interesting to still find this traditional festival there.
It is a 'one day' festival for the local community. Neighbours are burning paper and greeting each other. There is really a high temperature around due to papers burning on the street.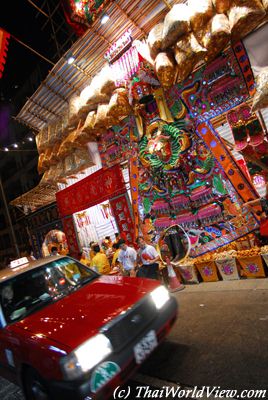 It is happening on Aberdeen Street, just near the famous Soho area where bars and restaurants are mushrooming.
Taxis and cars are going by also.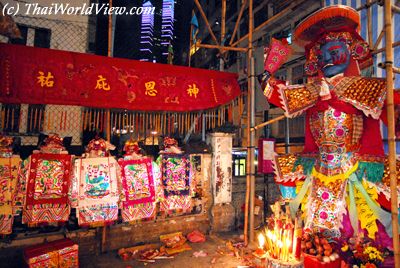 Around Aberdeen street, many old buildings have been destroyed and are under redevelopment. So the festival committee may not be able to keep their old building forever due to the district fast development and Soho extension.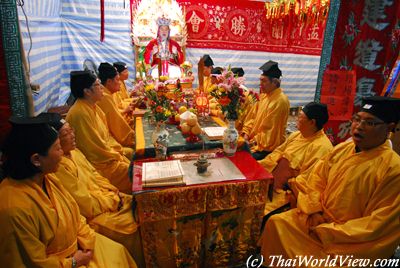 This festival is happening on the street so many people going to Soho or coming from Soho with drinks are passing by. Offerings and prayers are done to the wandering ghosts (people which died without descendants).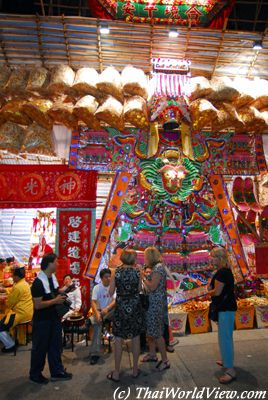 This Yulan festival has a different mood as modernism and traditionalism are mixing here but for how long? Funny to see some expats in high fashion clothes going out from adjacent bars while holding glasses of champagne and having a weird look about what is going on there!
---
---
comments powered by

Disqus
---