LOY KRATHONG
Increase or decrease font size for easier reading : A+ A-
---
The event "LOY KRATHONG" (ลอยกระทง) is a festival happening every year on the full moon of the 12th lunar month (first full moon day of November). All Thai people buy or make a "KRATHONG". It is often made of styrofoam (bad choise as it is not biodegradable) surrounded by banana leaves, with flowers and a candle in the middle. Then during the evening, Thai people go to places where there is a river, a pond to launch their "KRATHONG".
In ancient times, this ceremony was to excuse one-self to the spirit of the river and to let float one's sins away.
Nobody grabs the "KRATHONG" except children, who are allowed to take the coins when the candle is blown out.
---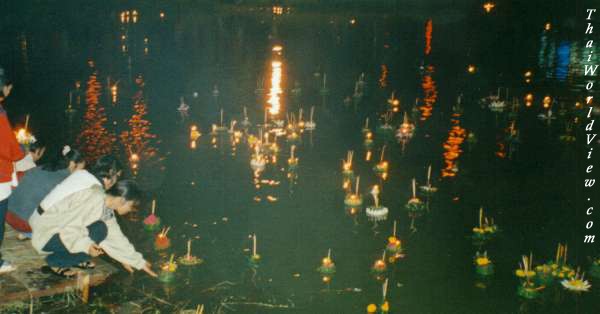 ---
On the night of "LOY KRATHONG", it is time to send a "KRATONG". People, who are not skilled enough to make it, can buy it in many small shops. Then they go to a river, a pond or even hotel swimming pools in Bangkok. Even in places where there is no river, Thai people make two small swimming pools linked with tubes in order that the "KRATONG" float from one swimming pool to the other. Then Thai people lit the candle, insert a "one Baht coin", make a wish and let their "KRATONG" float.
---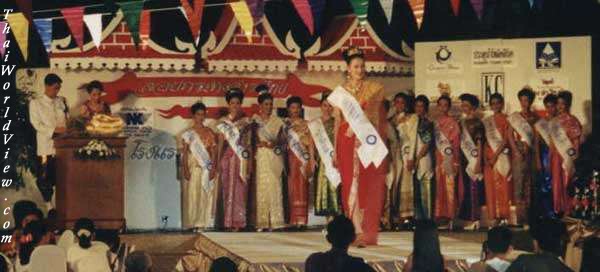 ---
The first Loy Krathong festival in Thailand took place in the former capital of Sukhothai and was introduced by a woman called "NANG NOPPAMAS" (นางนพมาศ), a royal consort of King Lithai. She also initiated the tradition of decorating the "KRATONG", a lotus-shaped vessel made of banana leaves and stems, to float on the water.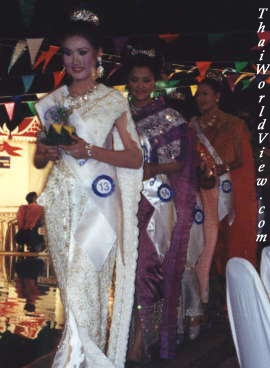 "LOY KRATHONG" happens everywhere in Thailand. In touristic places like Sukhotai, Ayuthaya the festival is highly famous. Often there is an election of miss "LOY KRATHONG". Women are dressed in Thai traditional clothes. For a more traditional festival closer to everyday Thai life, people prefer non touristic places.
In year 2000 Kesaraporn Duangsawan captured the hearts of the judges and walked away with 6,000 baht as first runner-up in a "LOY KRATHONG" beauty contest in Ratchaburi -- until organizers discovered the beauty queen was a man (กะเทย - man dressed like a woman). Some of the contestants had complained of unfair competition saying Kesaraporn was actually male. The disgraced 22 years old beauty queen handed back the prize money a few days after. Kesaraporn had asked only to keep the Miss Media runner-up sash as a momento.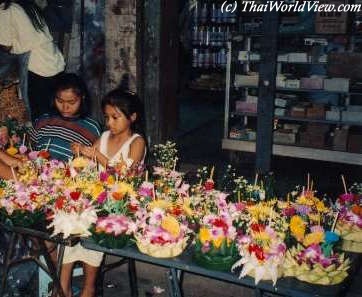 In

year 2002

the Bangkok city governor created a polemic by encouraging the use of styrofoam floats . He said that it's light and easy for the clean-up afterward. The floats made from banana trunks sink fast and they make the water rot. His declarations cause polemic as he is also head of the garbage collectors and that styrofoam is not biodegradable.
Bangkokian people go to parks (including Lumpini, Chatuchak, Saranrom, Wachirabenchatat, Phranakhon...) to float their krathong. Canalsides, pontoons and piers on the Chao Phya River are also popular places to float "KRATONG".
---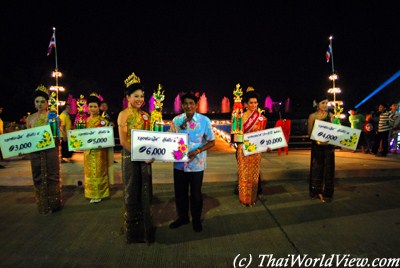 During Miss Loy Krathong beauty contests, the winners receive money prizes.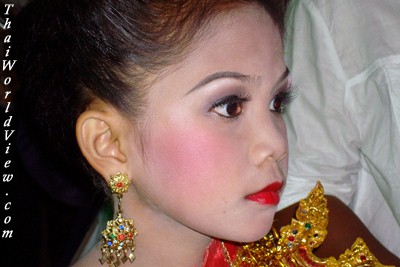 Loy Krathong is one of the Thai most popular annual festival. The other popular one is Songkran. Both festivals deal with water but Loy krathong is more spiritual.
In Chiang Mai, Loy Krathong is also called "YI PENG" (ลอยโคมยี่เป็ง) festival and includes the release of thousands of paper floating lanterns into the night sky all over the city.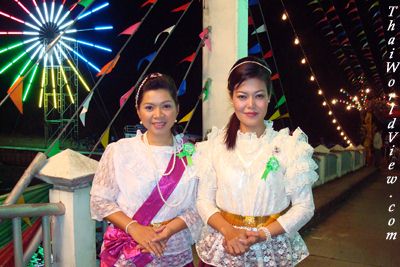 Loy Krathong festival is a popular event with tourists. For example the Loy Krathong 2009 festival in Chiang Mai had drawn at least 30,000 tourists a day over its five-day stretch.
An old Thai proverb says that "When a boy and a girl are launching a KRATHONG together they will be lovers this life or next life".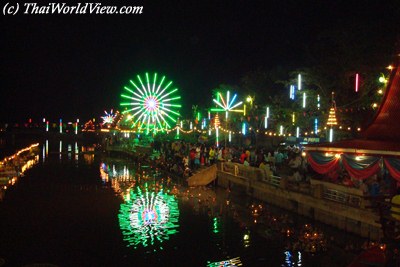 There is magic when the flotilla of krathong is glittering in the dark evening.
According to another Thai custom, people must keep their eyes on their "KRATHONG" until it drifts out of sight as there is a belief that the longer the candle is burning, the better the next year will be.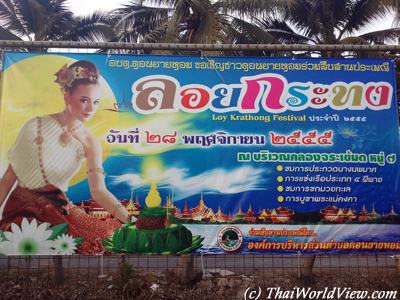 Big banner advertising for Loy krathong festival during year 2555 / 2012.
---
---
comments powered by

Disqus
---