THE CANDLE FESTIVAL
Increase or decrease font size for easier reading : A+ A-
The candle festival features a great candle procession which reflects the Thai people's sincere belief in Buddhism, Thai local traditions and rituals associated with "KHAO PHANSA" (เข้าพรรษา) or the Buddhist Lent.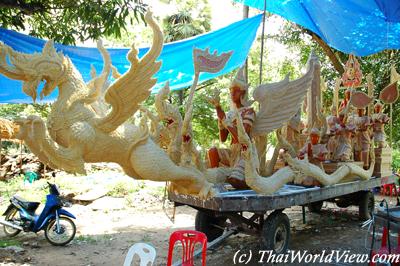 Ubon Ratchathani is home to a great number of craftsmen in several fields who continue to produce exceptional work in contemporary art, local handicrafts, Buddhist art and architecture. The magnificent wax candles highlighted during The Candle Festival is the media by which local artisans express their artistic talent.
Wat Thung Sri Muang community, Wat Bupharam community, Wat Sri Pra Ku community, Wat That Nong Bua community, Wat Nong Pla Paak community, Prathum Vittayakarn School, Baan Kum Pun Weaving Village are well known candle-crafting communities in Ubon Ratchathani.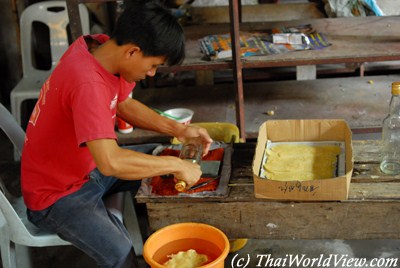 Visits can be done to candle-crafting communities such as Wat Bupharam community to see the skills of craftsmen.
These above candle-making temple communities are noted for their hand-crafted traditional beeswax candles. Visits to each provide interesting insights into an ancient artistic tradition and local culture.
Local communities start making candles a few days prior to the parade day.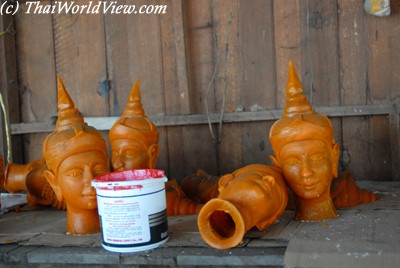 It is worth watching the local artisans meticulously at work in a natural setting.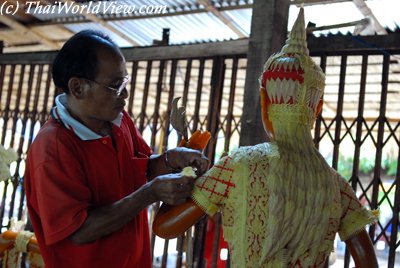 It is worth visiting communities and temples where candles are made and crafted two or three days before the Royal Candle Procession. It allows learning about the techniques and methods used as well as the designs applied to the candles.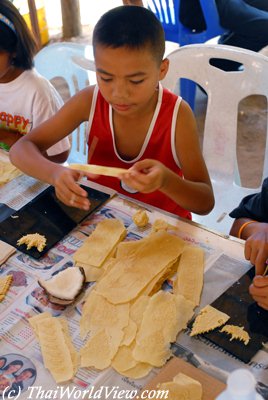 Huge carved wax candles can take from 15 days to up to two months to elaborate. It depends how many people take part in the carving.
Candles featured in the Buddhist Lantern candle procession generally consist of crafted candles, moulded candles and ancient candles. The candle-crafting tool set consists of knives, chisels, metal hooks of various shapes and sizes and paint brushes.
The process of moulding candles is similar to the crafting process except the candle-maker initially casts smaller-sized candles which he or she then moulds together into a larger beeswax candle structure. Superior quality beeswax is used to mould candles and only the very finest quality beeswax is used for crafting ornamental candles.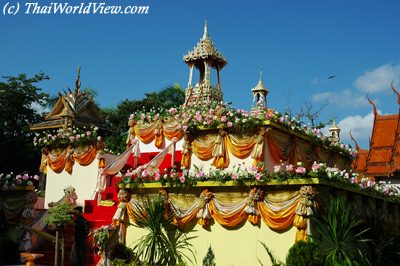 Merit-making and other activities are associated with Buddhist traditions, rituals and ceremonies performed during the Buddhist Lent.
---
---
comments powered by

Disqus
---