Lying in a coffin
Increase or decrease font size for easier reading : A+ A-
นอนโลงให้โชค or "NON LONG HAI CHOK" means sleeping in a coffin to get chance.
This ritual has become increasingly popular in the last few years. Even Thai stars speak about it during TV show. It involves participants lying in coffins while monks perform death rites on them as if they already passed away. Participants believe they are reborn after the ritual (ตายแล้วเกิดใหม่) with all their bad deeds buried behind them. This ritual is also supposed to extend the life span.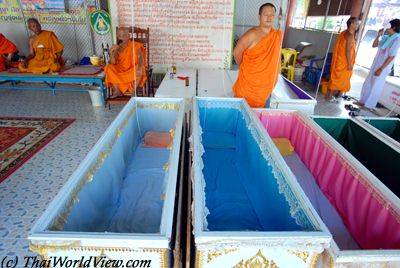 Some temples propose this ceremony once a year as part of other donation ceremonies when doing yearly temple fair. Some other temples especially in Isan area propose this ceremony for thousands of people every day. People ask any thing and expect to get anything. People stay in the coffin around 5 minutes while the monks are telling sermon and prayers. The monk close the coffin's lid. People shall wear black clothes.
The ritual สะเดาะเคราะห์ or "SADAOKHRAO" means to get rid of bad luck. One of the popular way is to receive on the head some holy water by a monk.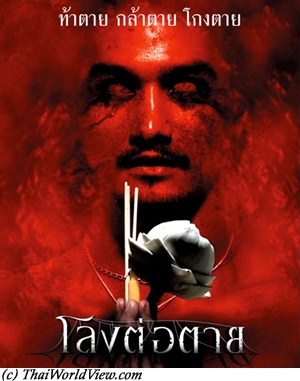 This movie is inspired by the Thai Buddhist ritual of lying in coffins to get rid of bad luck (นอนโลงให้โชค). A young Thai man, Chris, and a young Hong Kong woman, Sue, decide to go through this ritual. Chris does it in the hope of saving his Japanese fiancee who is dying of terminal cancer. Sue does it to save her own life after being diagnosed with a brain tumor one week before her wedding with Jack. After the ritual, Chris and Sue experience some miracles in their respective lives. Soon they find themselves confronted by a series of scary events. Chris always see a woman and her baby. She is his ex-girlfriend who died along with her child. Sue learns that her fiancee is dead and gets haunted by him. Sue consults an expert in the paranormal and later Chris to try to solve her supernatural difficulties. Chris and Sue decide to go again a last time through the ritual to reverse the wheel of Karma...
Many people still believe it's bad omen to lie in coffins when they are still alive. Participants normally give donations to the temples in return for having the ritual performed on them. The ceremony is also called นอนในโลงศพ or "NON NAI LONG SOP" means sleeping in a coffin. When people are lying in the coffin, their head is turn to west in the same direction as the sun is going down. In Thai people home, beds can be placed in any direction except west.
---
comments powered by

Disqus
---